Overview
This page is for administrators whose schools or districts use Google for Education. Apps like Pear Deck are, by default, not allowed in EDU domains. In order for teachers to get the Pear Deck for Google Slides Add-on, and thereby install Pear Deck in Google Drive, the G Suite Administrator will need to specifically enable permissions for users to get Pear Deck. There are two different ways to accomplish this:
Install Pear Deck in all users' accounts
1. Open the G Suite Marketplace. Go to the Pear Deck for Google Slides listing.
2. Click on Domain Install.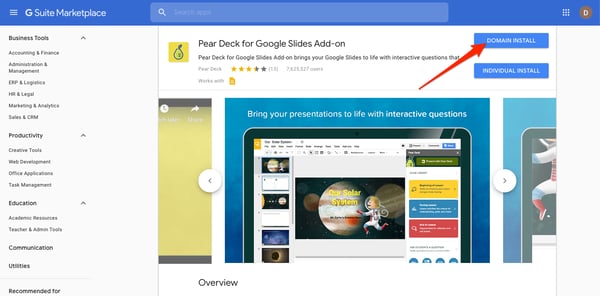 3. In the next two screens, accept the permissions that Pear Deck asks for. Learn more about Pear Deck security practices.
4. When you see it in your Marketplace, the domain installation is complete!

Teachers will be able to open the Pear Deck sidebar in Google Slides. They just open a Google Slides presentation, go to the menu bar, then click on Add-ons > Pear Deck > Open Pear Deck Add-on. Please note that it may take up to 24 hours for Pear Deck to be installed throughout your entire G Suite domain.
Allow

Pear Deck in the G Suite Marketplace

Let individual users in your domain to get the Pear Deck for Google Slides Add-on and install Pear Deck in their own Google Drive accounts. If you would like to install Pear Deck for every user in your domain, please see instructions in the previous section.

1. Go to your Admin Console Home page.

2. Click on Apps.

3. On the left side, click on G Suite Marketplace apps.

4. Click Manage Access.

5. Select the first or third option. When you are all done selecting a settings option, click Save Changes.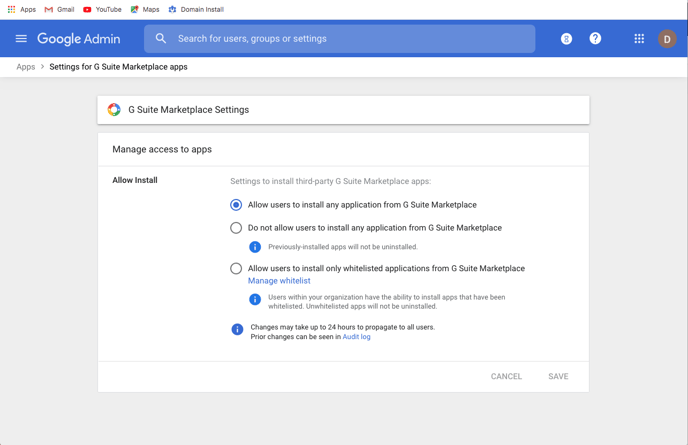 If you select the first option, users in your domain will be able to install any application from the G Suite Marketplace.
If you select the third option, be sure to click on the Manage whitelist link.

Click the button to display available apps and scroll to see them all. When the full list is displayed, you can click Ctrl + f or ⌘ + f (Mac) to search for Pear Deck.
Locate the Pear Deck add-on for Google Slides.
Check the box next to it.
Scroll to the bottom of the screen and click Whitelist.
Click Confirm.
See the original source of these instructions.