Overview
Want to give all of your teachers access to the Pear Deck Power-up at once? We've got you covered! The Power-up is an optional, free Google Chrome extension. Installing it ensures that the videos, animations, and GIFs on your Google Slides play at full resolution in a Pear Deck Instructor-Paced Session. Learn about it here. While individual users can download the extension from the Chrome Web Store, you as the administrator can install the extension for all teachers in your Google domain by following the steps below.
The Power-up extension for Google Chrome is currently only available for those who log into Pear Deck with a Google account.
Instructions
Follow these steps to install the extension across your domain.
1. Log into Google Admin Console.
2. Select Device Management.

3. Select User & browser settings.

4. In the left-hand column, select the Organization (user group) to which you want to apply the extension. Then, click on the apps & extensions link.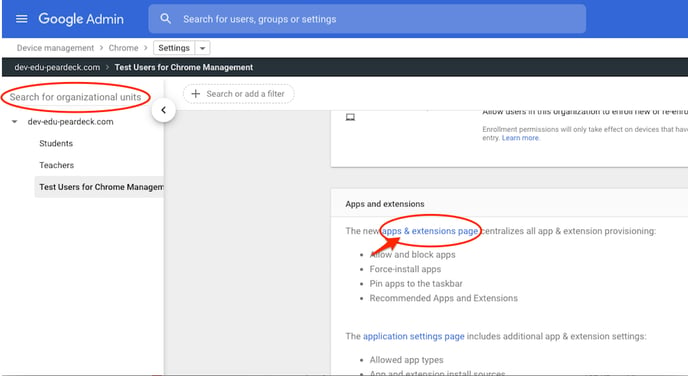 5. On the apps & extensions page go to the bottom right corner of the screen. Click on the yellow + button to open the search modal.

6. In the pop-up window, search for Pear Deck. You can select the Pear Deck Add-on (App) or the Power-up (Extension) to install it in Google Slides for everyone in the domain
The Pear Deck Add-on is required for teachers to create and present Pear Deck Slides presentations.
The Power-up Extension is optional, but it allows the Google Slides animations play on the Projector View of a Pear Deck presentation.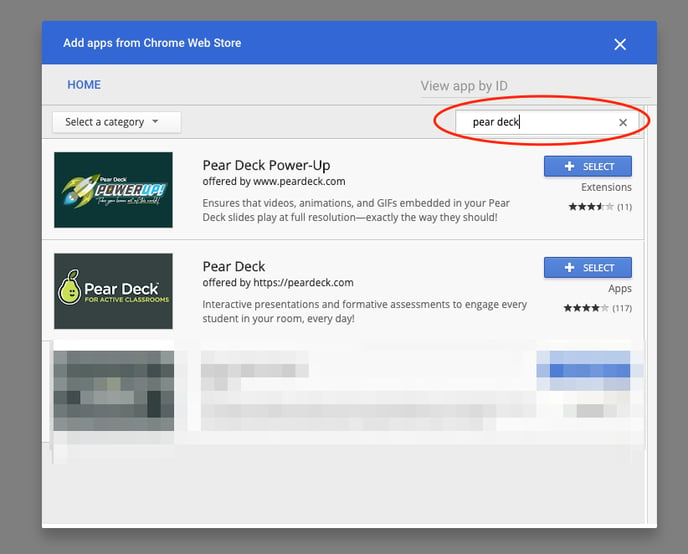 7. The apps and extensions page will show what apps and extensions you have installed for users in your domain.
This process will ensure that the Pear Deck Power-up is installed on every device without teachers needing to make any updates. For additional questions, please email help@peardeck.com.