Overview
With the Pear Deck for Google Slides Add-on, you can add the magic of formative assessments and Interactive Slides to your presentations right from Google Slides. If you are an administrator and you want to give all of your teachers access to the Pear Deck Add-on at once, we've got you covered!
Instructions for the Administrator
Instructions for Teachers
Instructions for the Administrator
Here are the steps to install the Add-on for your Google domain:
1. Log into your Google Admin Console and select Apps.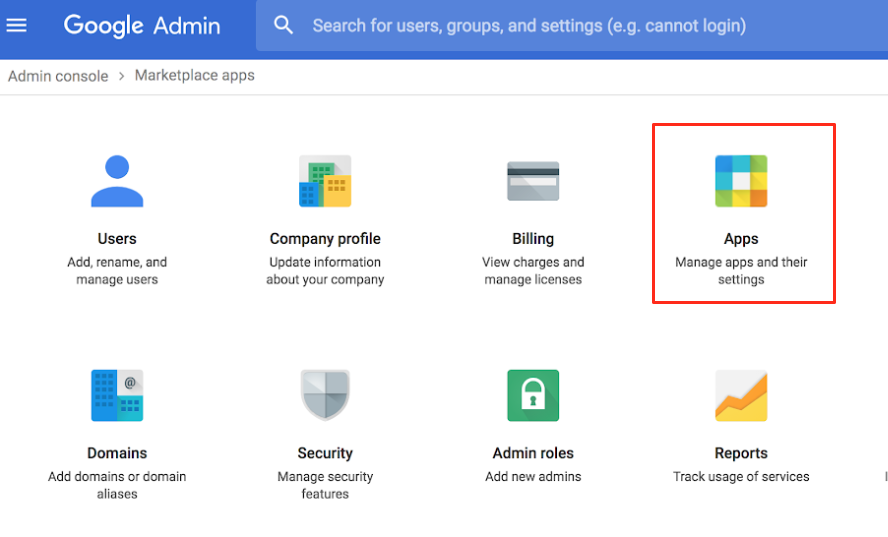 2. Click on Marketplace Apps.
3. You'll see a list of all of your current Marketplace Apps. In the tool bar, near the right side, you will see a plus sign. Click the + icon.
4. Search for Pear Deck and choose Pear Deck for Google Slides Add-on.
5. Click Install.
6. The Pear Deck for Google Slides Add-on now appears in your list of Marketplace Apps. Make sure that the Add-on is On for Everyone (see the image below). This means that everyone in your domain can access the Add-on from their Google Slides editor.

Additionally, if you have Organizations set up in your Google Admin console, you can choose to give access to the Add-on to a subset of your domain. Click the 3-dot menu and choose a specific organizations to give it to.
Instructions for Teachers
Now that you have installed the Pear Deck for Google Slides Add-on in your domain, here's what teachers can do to open it and start creating Pear Deck presentations:
Open any Google Slides File.
Click Add-ons in the Google Slides menu.
Hover over Pear Deck then click Open Pear Deck Add-on. Teachers can learn more about the Add-on here.
For additional help installing the Add-on, here's the G Suite Administrator help article about installing Marketplace Apps.