Overview
Pear Deck is often used to engage students in a lesson in real time. But with Student Paced mode, you can extend any lesson by letting students work through your slides at their own pace, on their own time.
How to Start Student Paced Mode
You can turn on Student Paced Mode at any time from the following locations:
The Session Launchpad
Inside a Live Presentation
Your Sessions Menu
The Session Launchpad
First, launch your Session from one of these places:

Your Pear Deck Home. Click on the Deck you want to present. When the Deck modal window (below) opens, click Start Presenting.

The Pear Deck for PowerPoint Online Add-in:
The Pear Deck for Google Slides Add-on:
In the Session Launchpad, choose Student-Paced Activity:

For the teacher who has Premium access, the private Teacher Dashboard opens automatically so you can see students names next to their responses and who is on each slide. Teachers who have the Free plan will be directed to the Projector View, where you can see the responses anonymously.
Inside a Live Presentation
Scroll over the bottom of the slide to open the Navigation Bar.

On the Navigation Bar, click the More Actions

(three-dots) button.

Click Turn on Student-Paced.
Your Sessions Menu
Start presenting your Slides Deck. This opens a new Session.

Go to Pear Deck Home.
Go directly to your Sessions menu and find the active Session.
Make sure it is Live. If it's closed, click the three dots menu next to it and Reopen Session.
Click on the More Actions button and click Turn On Student-Paced. You can click Turn Off Student-Paced when you're done.
Now students can join the Session and work through it anywhere, as long as they have a stable internet connection and the Session Link or the Join Code. You can even close your browser or turn off your device. To verify that it's in Student Paced mode, you can look at your Sessions menu. Here's a Session that is ready for students to join and work through on their own:
How to Stop Student Paced Mode
You can stop Student Paced mode at any time. For example, you may want draw students' attention to the front of the room by syncing their screens up to your Projector View again. Or maybe you want to end a homework Session or a take-home quiz. Here are a few ways to do it:
Go to the Navigation bar and click Stop Student-Paced. This stops Student-Paced mode, but keeps the Session active and gives you control of the slides again.
Stop Student-Paced mode in your Sessions menu. Find the Session, open the three-dots menu next to it, and click Turn Off Student-Paced.
End the Session entirely. This keeps students from having access at all. Open the More Actions Menu

and click

End This Session. Or, simply click END.
See what students are doing
When Student-Paced Mode is active, students have a simple Navigation Bar at the bottom of their screen. They can move through all of your slides at their own pace. They can see all of the slides and the Interactive Questions you added to them. Here's an example of the Student View in action: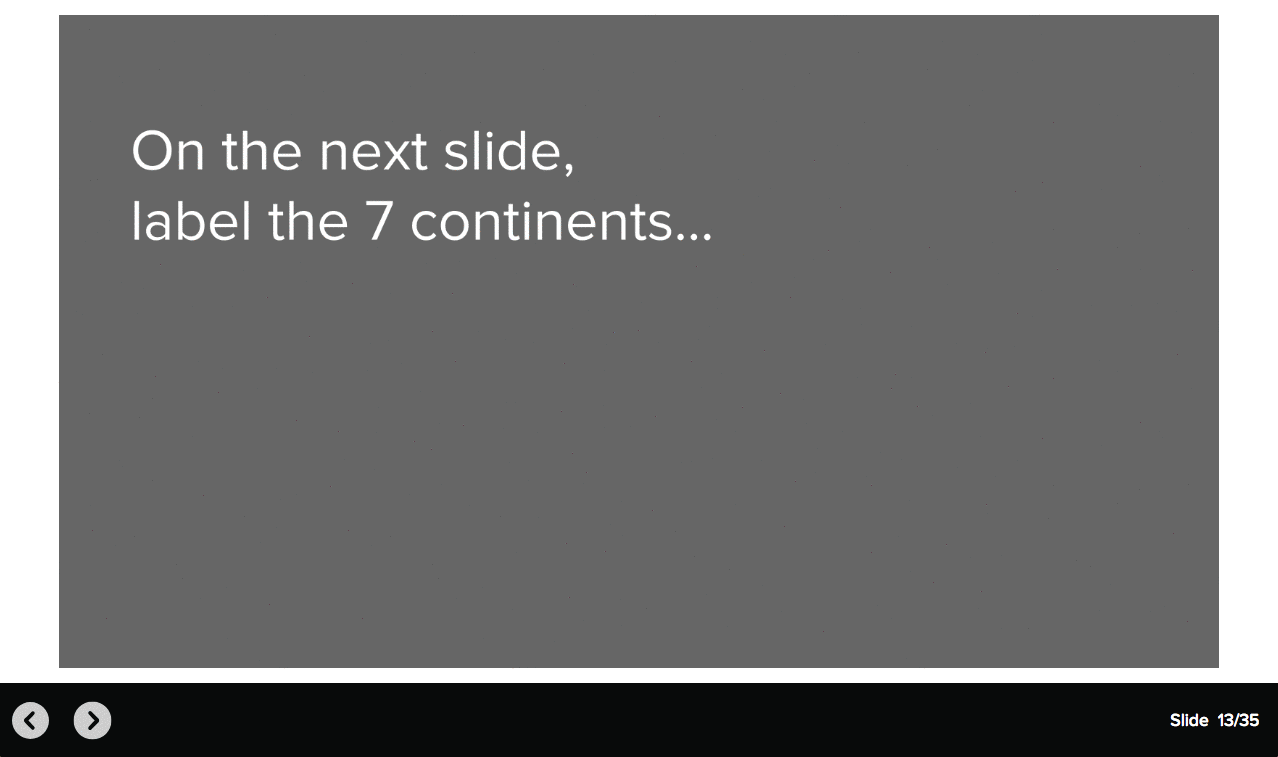 Open the Dashboard to view the Progress Bars and number of students on a slide. At the bottom of each slide thumbnail, a little green progress bar shows you roughly how many students are done with a slide. In the example below, I can see that most of my class is done with the top slide. The blue person icons tell you the number of students currently on a slide.
Open the Dashboard and click on the blue person icon to see who is on each slide. This is helpful for seeing who is struggling with a slide or speeding ahead. Now you can check in on them.
At the end of the lesson, you can review responses in the Dashboard, publish Takeaways, or export responses to a spreadsheet.
FAQs
What is the difference between Instructor Paced and Student-Paced modes?
In an Instructor Paced Session, you have control over the slides. When you move to a slide on the Projector View, the students' screens sync up. However, if you want them to move through the lesson at their own pace, turn on Student-Paced mode, and students will be free to move forward and backward through the slides and answer all of the Interactive Questions on their own screens.
How do I save my students' responses?
All responses are saved automatically in every single Pear Deck Session. You can review them by opening the Projector or Dashboard View of the Session in your Sessions menu.
Can any kind of Session be in Student-Paced mode?
Yes, you can make any Pear Deck Slides Session Student-Paced.
Can students use this at home?
Absolutely. Just start your Session, turn on Student-Paced, and make sure students have the Session Join Code or the Session URL. Click here to learn more about how students join a Pear Deck Session.
Is it okay to turn Student-Paced on/ off in the middle of a lesson?
Yep. You can toggle Student-Paced mode on or off at any time, whether students are currently logged in or not. No data will be lost! If students are moving at their own pace and you turn Student-Paced Mode off, their screens sync back to whatever slide you're looking at on the Projector View. If you Student Paced-Mode on again, each student will be returned to the slide they were on previously.
Do students' responses show up on the Projector in Student-Paced mode?
While Pear Deck still saves responses automatically, the responses are not be displayed on the Projector View during a Student-Paced activity. If you want to show the answers to the class later, simply turn off Student-Paced, go back to the slide on your Projector View, and show responses.
Can I see what my students are working on in Student-Paced mode?
You can see which slide students are on with the private Teacher Dashboard, a Premium feature. Check out the See what Students are Doing section above to learn more.
Will it still work if I close my browser or turn off my device?
Yes, you can close your browser or even turn off your device and it will still work! You choose when to end Student-Paced mode. To verify or manage the Session status, go to your Sessions menu and click on the 3-dots button. Click on the 3-dots button to update the status. It must be live before you can turn on Student-Paced.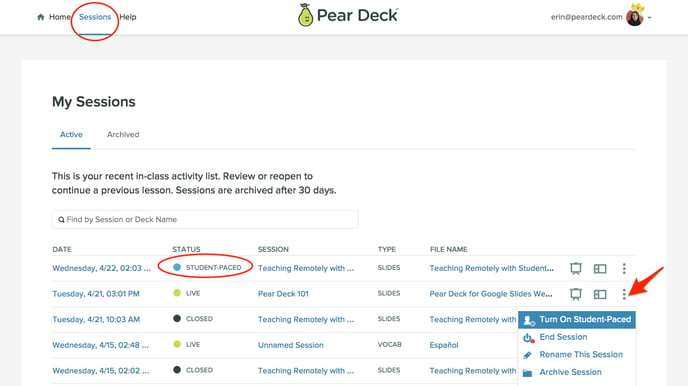 How long does a Student-Paced Session stay open/live?
It stays live or in Student Paced mode as long as you want it to. However, Sessions that have seen no new student responses for 30 days are automatically archived regardless of their status. In that case, you can still find them in the Archived list on your Sessions page. If a teacher or student accesses an archived Session via its Projector, Dashboard, or Student Join link, the Session will be automatically restored and students will be able to join it again.
Can I add voice recordings or audio instructions to my slides?
Yes!
You can make

a website slide

and insert a URL with your audio or video recording (from Edpuzzle, YouTube, soundcloud.com, etc.)

. In a

Student-Paced Lesson, students can listen to instructions or play a video one slide, then answer an interactive question on the next. This is currently the best option if you use Pear Deck for PowerPoint Online.
You can play an audio clip on the Projector View, but not the Student View, with Google Slides Audio. This is a good option if you want to play sound clips for students during an Instructor-Paced Lesson.


Open your Google Slides presentation.
Go to Insert > Audio.
Add a pre-recorded audio clip.
Before you present, install the quick, free Power-Up Chrome extension. This allows you to play audio, video, GIFs, and animations on your slide, on the Projector View, during your presentation.
Present with the Pear Deck for Google Slides Add-on
If you have additional questions, please reach out to help@peardeck.com!