Overview
Pear Deck is often used to engage students in a lesson in real time. But with Student-Paced mode, you can extend the lesson even further! You can share a Pear Deck Slides lesson to a student who missed class, flip your lesson, differentiate or scaffold instruction during class, assign homework, and more.
In this article, we'll cover these topics:
How to Start Student-Paced Mode
How to Stop Student-Paced Mode
What Students are Doing in Student-Paced Mode
FAQs
How to Start Student-Paced Mode
You can turn on Student-Paced Mode in the middle of any Session, at any time, without prior planning. There are two ways to do it: 1) from inside a Slides Session, or 2) from the Home Screen.
1. From Inside a Slides Session
Scroll over the bottom of the slide to open the Navigation Bar.
On the Navigation Bar, click the More Actions (three-dots) button.
In the More Actions menu, click Turn on Student-Paced.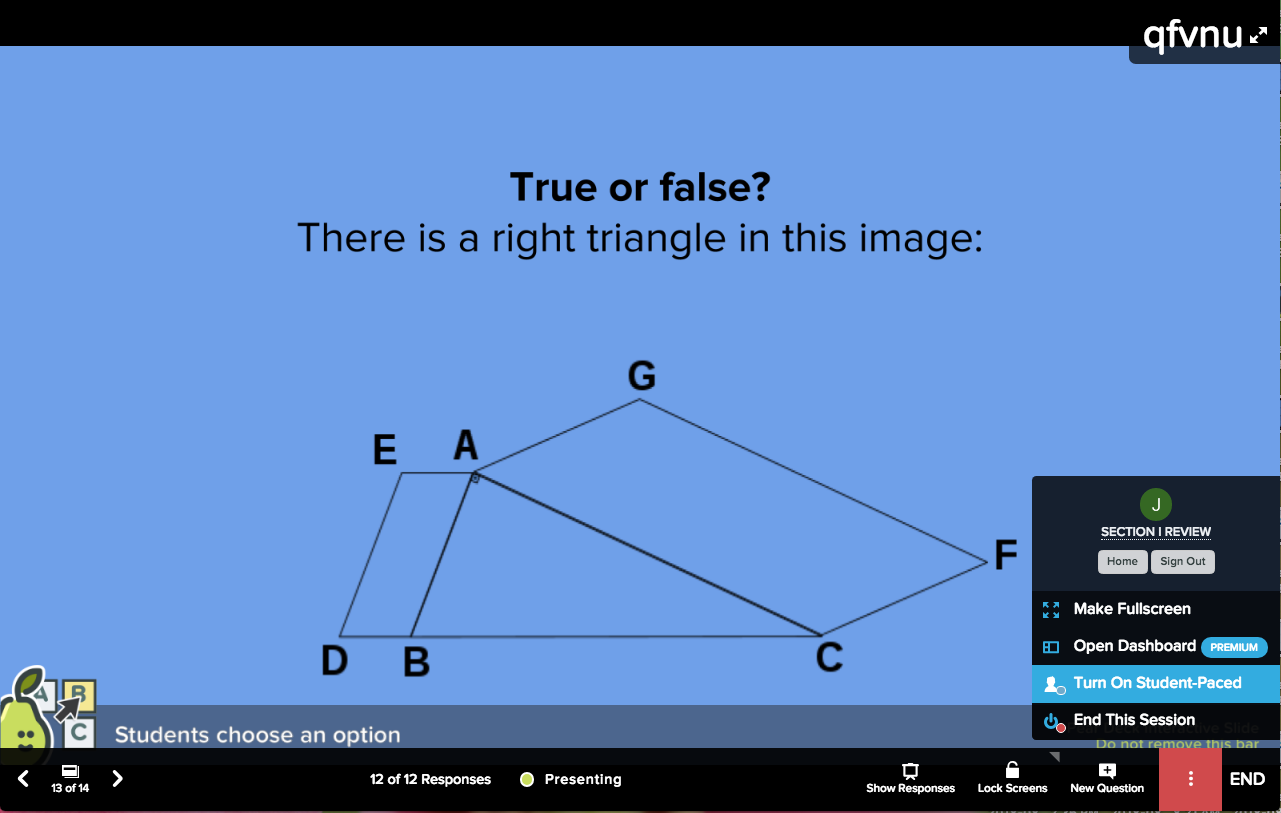 When Student-Paced mode is active, students have a simple Navigation Bar at the bottom of their screen. They can move through all of your slides at their own pace. They can see all of the slides and the Interactive Questions you added to them. Here's a GIF of the Student View in action: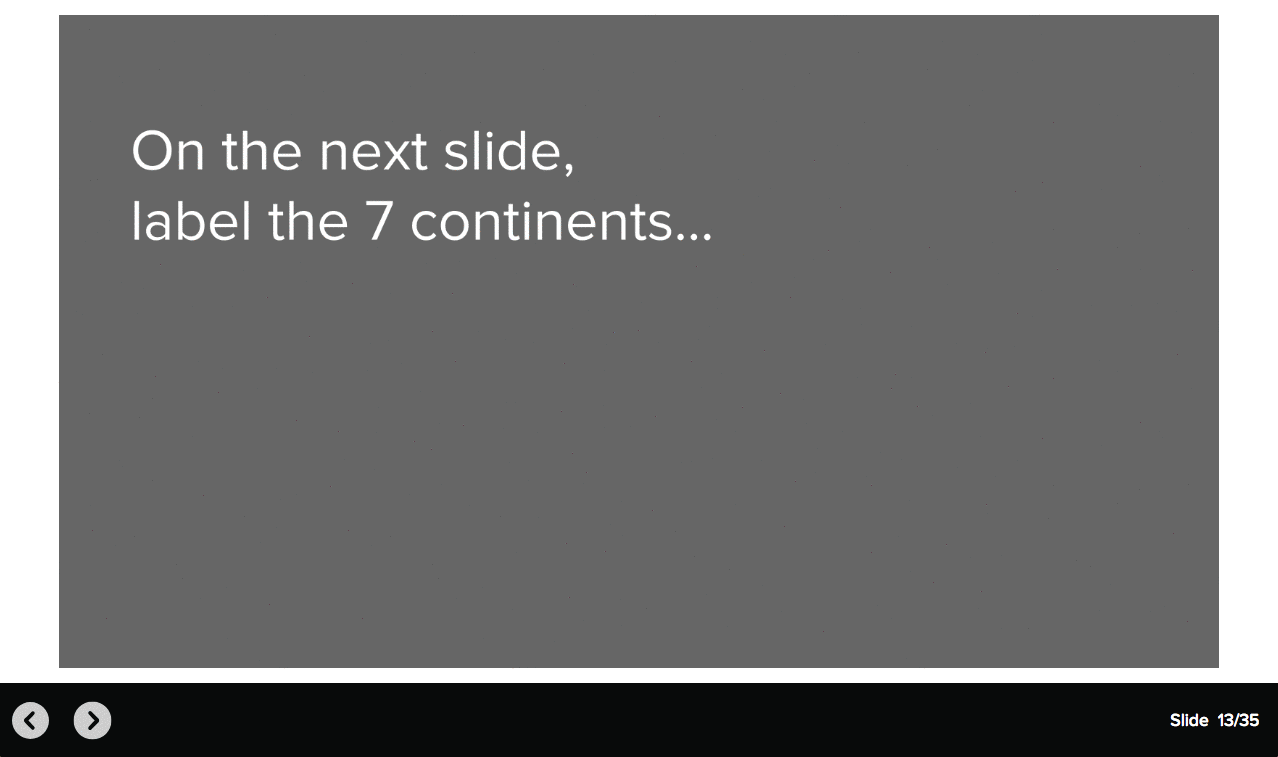 You don't need to keep your browser window (neither the Projector or Dashboard View) open if you prefer not to. Simply close your browser tab - the Session stays active in Student-Paced mode and students can continue working.
2. From a Sessions Menu
This is especially handy when you want to assign a lesson for homework or flip the class.
Start presenting your Slides Deck. This starts a new Session (you can also reopen a previous Session and turn on Student-paced mode for a student who missed class!).
Go to Pear Deck Home.
Go directly to your Sessions menu and find the active Session, OR go to the Present a File section and click on the file you are presenting to open the Sessions modal menu.
Find the Session and make sure it is live (if it's closed, click More Actions > Reopen Session, then you'll have the option to turn on Student-Paced).
Click on the More Actions button and click Turn On Student-Paced. You can also click Turn Off Student-Paced when you're done.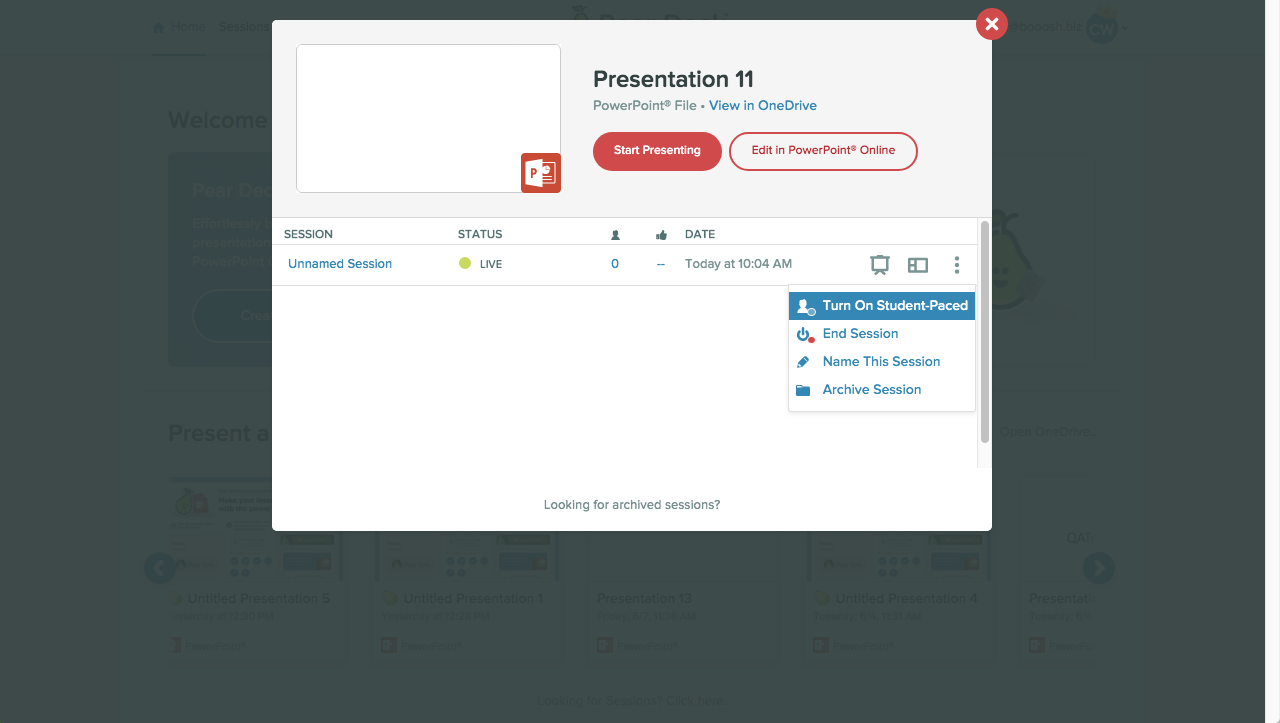 Now students can join the Session and work through it anywhere, as long as they have a stable internet connection, a Google or Microsoft 365 account, and the Session Link or the Join Code. You can even close your browser or turn off your device! To make sure your Session is in Student-Paced mode, just go to your Sessions menu. Here's one that's ready for students to join and work through on their own:

How to Stop Student-Paced Mode
You can stop Student-Paced mode at any time. For example, maybe it's time to draw students' attention to the front of the room and sync everyone up to your screen, or maybe you want to end a homework Session or a "take-home" quiz. Here are a few options:
1. Go to the Navigation bar and click Stop Student-Paced. This stops Student-Paced mode, but leaves the Session active and gives you control of the slides again.

2. Stop Student-Paced mode in your Sessions menu. Find the Session, open the More Actions menu next to it, and click Turn Off Student-Paced.
3. End the Session entirely. This keeps students from having access at all. Open the More Actions Menu and click End This Session. Or, simply click END.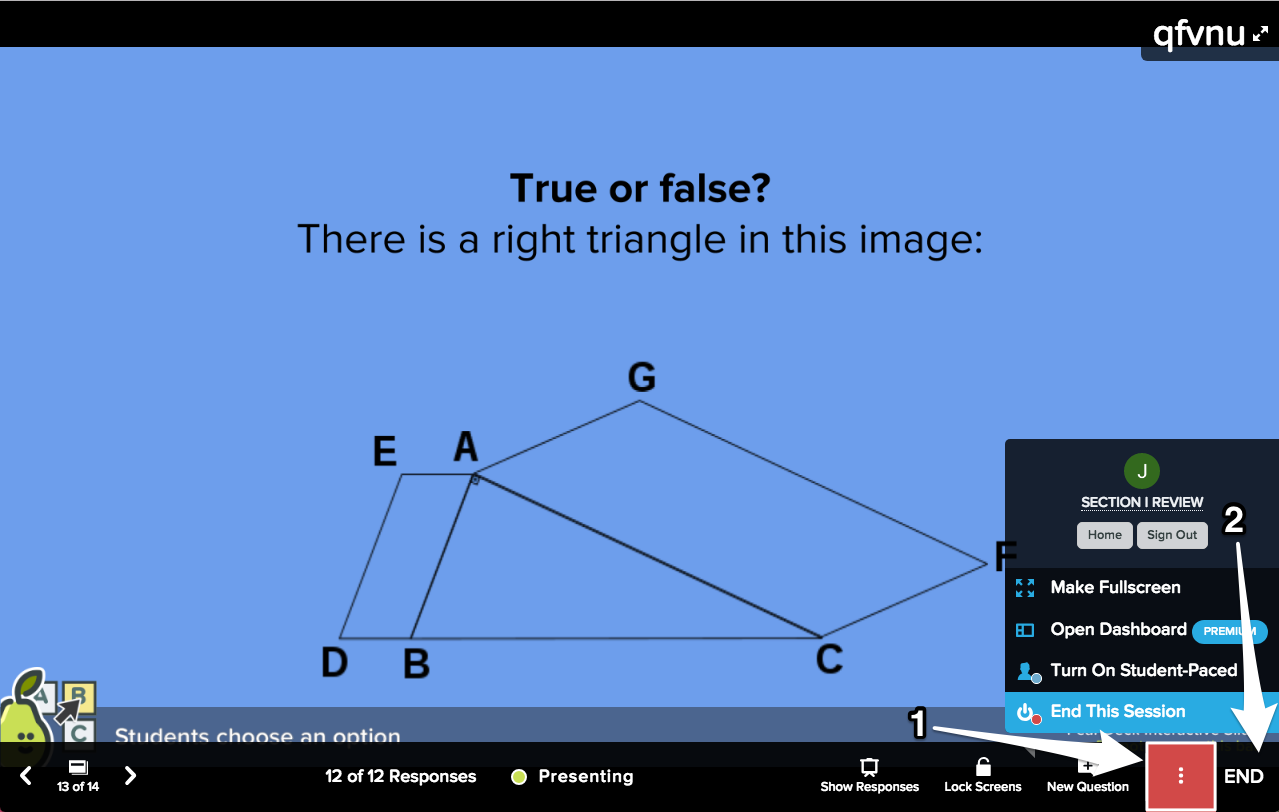 See What Students are Doing
When you turn on Student-Paced Mode, your students can suddenly flit through slides as they wish. This can make it hard to know where each student is or if they might be stuck. So we built some special tools into the Teacher Dashboard (a Premium feature) to help you keep track of what each student is doing.
Look at the Progress Bars and see who is signed in
At the bottom of each slide thumbnail, you can see a little green progress bar to show you roughly what percentage of the class is done with that slide. In the example below, I can see that most of my class is done with the top slide. These blue person icons will appear to tell you the exact number of students on a slide.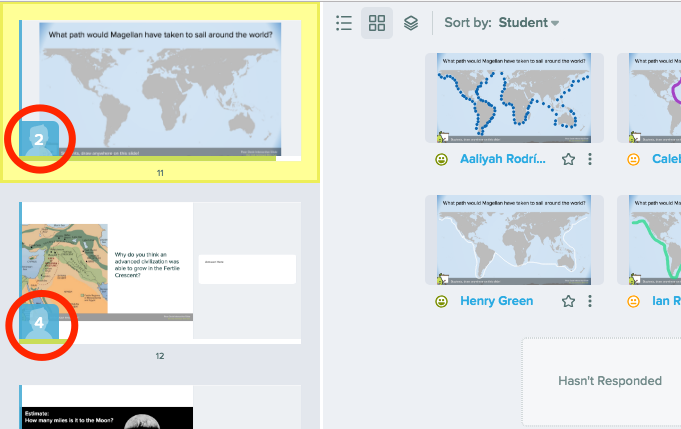 Click on the blue person icon to see the names of the students who are on a certain slide. This is great if, for example, you need to see which students might be behind or struggling with a slide. Now you can check in on them.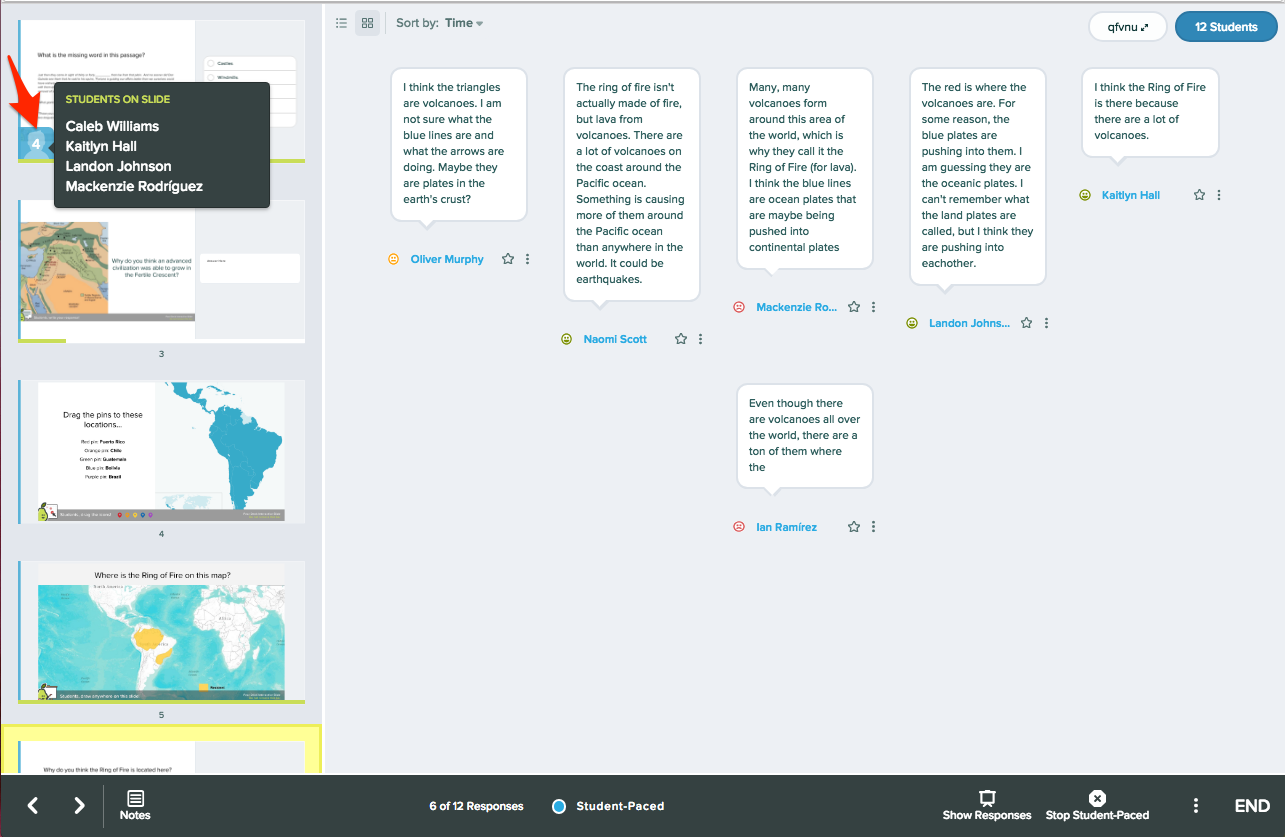 FAQs
Q: What is the difference between the normal presentation mode and Student-paced mode?
A: When you start presenting a Pear Deck, you automatically start a new Session for your students to join and. By default, you have control over the slides, and when you move to a slide on the Projector View, the students' screens sync up automatically. However, if you want them to move through the lesson at their own pace, turn on Student-Paced, and students will be free to move forward and backward through the slides and answer all of the Interactive Questions on their own screens.
Q: Can any kind of Session be set to Student-Paced mode?
A: Yes, you can turn any Pear Deck Session into a Student-Paced Session.
Q: Can students use this at home?
A: Yes, and it's perfect for flipping the class, assigning homework, and letting a student who missed class catch up with a lesson! Just start your Session, turn on Student-Paced, and make sure students have the Session Join Code or the Session URL. They will then be able to log in with the same type of account (either Google or Microsoft 365) that you're using.

Q: Is it okay to turn Student-Paced on/ off in the middle of a lesson?
A: Yes. You can toggle Student-Paced mode on or off at any time , whether students are currently logged in or not. No data will be lost! If students are moving at their own pace and you turn Student-Paced Mode off, their screens will sync back to whatever slide you're looking at on the Projector View. If you turn it back on, each student will be returned to the slide they were on previously.
Q: Do students' responses show up on the Projector in Student-Paced mode?
A: While Pear Deck still saves responses automatically, these responses will not be displayed on the Projector View during Student-Paced mode. If you want to show the answers to the class later, simply turn off Student-Paced mode, go back to the slide, and show the responses you collected on the Projector View.

Q: Can I see what my students are working on in Student-Paced mode?
A: You can see which slide students are on with the private Teacher Dashboard, a Premium feature. Check out the See what Students are Doing section, above to learn more.
Q: Will this still work if I close my browser or turn off my device?
A: Yes, you can close your browser or turn off your device and it will still work! You choose when to end Student-Paced mode. To verify or control the Session status, go to your Sessions menu.