Overview
Did you know you can share that lesson you're super proud of with fellow teachers? There are a few ways to share a Pear Deck with a Google account:
If you sign into Pear Deck with a Microsoft Office 365 account, click here to learn about sharing files.
Share a Slides Deck or Vocabulary List to another person
Pear Deck files live in your Google Drive. To share a Pear Deck, locate the file, select it, and click on the share button.

In the Share with others menu, add the Google email addresses of the people to whom you want to share this file. Make sure to adjust sharing permissions.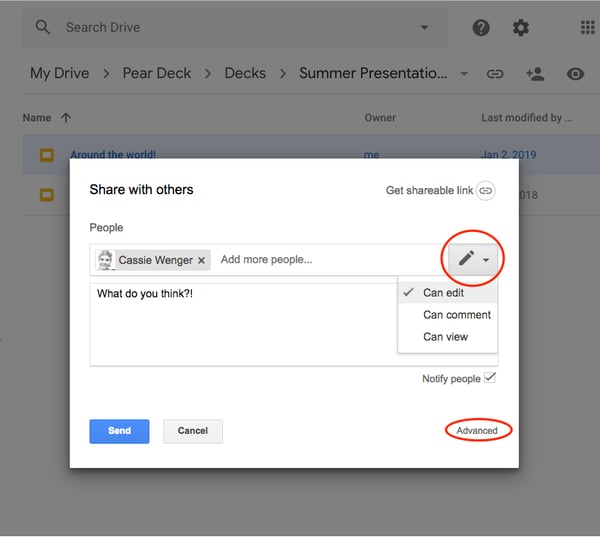 What are some good reasons to share a Pear Deck?
You can share editing permissions (Can edit) to another person for full, real-time collaboration. This is especially great for co-teaching or sharing with substitute teachers. Please note that any co-owners have the power to delete the file.

You can allow your friends and colleagues to leave comments (Can comment) so they can share their thoughts and questions on the file, but not edit it.
If you share it with viewing permission only (Can view), others will not be able to edit or leave comments, but they can make their own personal copy of the file.

Click Get shareable link to generate a link that you can post to Twitter, a blog post, or paste into an email. You could also share a read-only template with your students if you want them to build a Pear Deck for a class presentation.
Publish your Slides Deck or Vocabulary List
When you publish your Deck, it becomes public, so others can preview, copy, present, and share it. Published Decks can be shared through a link or on social media via Twitter, Facebook, and Pinterest. They also appear in search engines when other teachers search for specific topics. When you publish a Deck, you get to create a custom page to tell others the subject(s), grade level(s), and any Common Core standards it meets. Get out there and start sharing your incredible lessons!
1. First, publish your Deck. There are two options:
Go to the Share page and search for the file you want to publish, OR
Open the file directly and publish from there (if you choose this option, skip to Step 4).
2. On the Sharing page, click Select a File from Drive.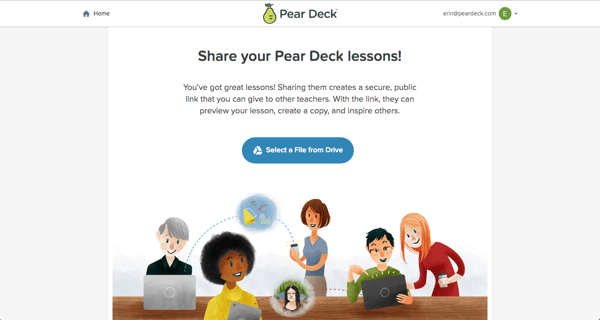 3. Search for the file you want to publish. Click on the file, then click Select.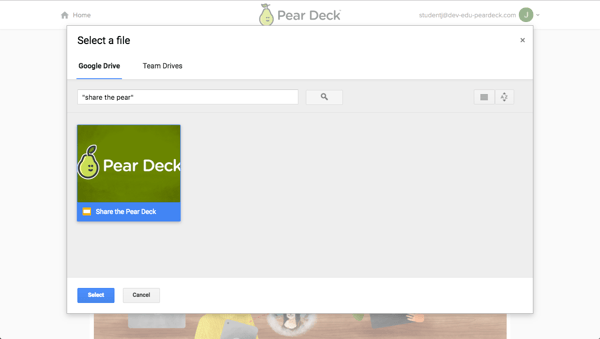 4. You'll land on the Publishing page, where you can describe your lesson with a title, subject(s), grade level(s), and any Common Core standards it meets. Check the Credit me box to put your name on the lesson, or leave the box unchecked if you prefer to publish the lesson anonymously. Before you can publish, you'll need to agree to Pear Deck's Terms of Service.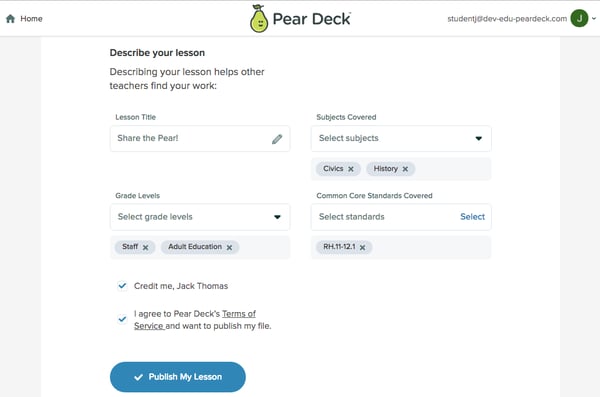 5. Congratulations! Your file is now public. Anyone can find it in a search and present it with Pear Deck. You can click on the blue Preview Published File button for a preview of what the public will see (see example in the image below). Here are a few important things to know:
You can share this Deck easily with a public link, Twitter, Facebook, or Pinterest by clicking on the corresponding icon in the top right corner of the screen.
You can click the Edit Lesson link to go directly to Google Slides and update the Deck. The changes you make will be automatically updated to the public version, too.
Click Unpublish Your Lesson to remove public access now. You will still be able to find the file in your Google Drive Pear Deck folder.
Please note! You can only access this Preview page again by saving the URL.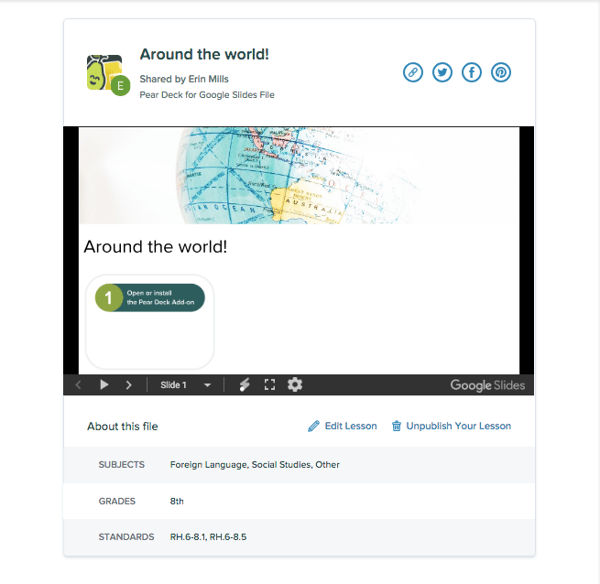 6. Anyone who clicks on the link you share will be able to copy your file to their Drive. Here's an example of the shared page: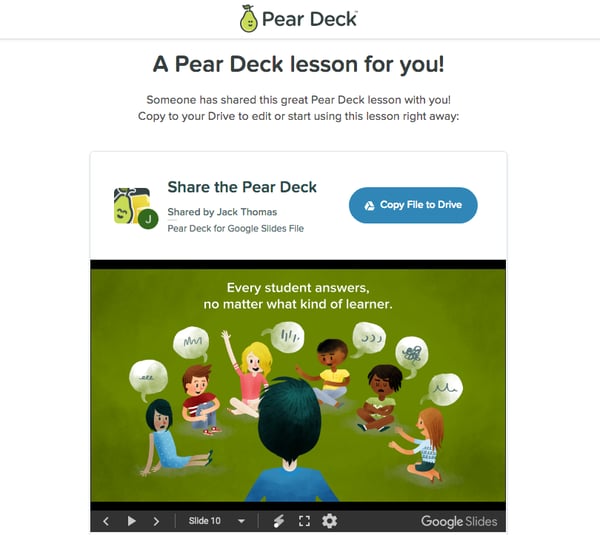 7. The public version of the Deck is automatically saved in the Pear Deck > _Published Files_ folder in Google Drive. If you decide later to un-publish and revoke public access to it, delete it from your Published Files folder. It will only be deleted from published files. Your personal version of the Deck is still in your Drive, located in your Pear Deck folder (unless it was moved deliberately)