Overview
We're pleased to announce the beta launch of our integration with Immersive Reader! This feature is just one step in our journey to build products with greater accessibility and enable all students to experience powerful learning moments. We're using this beta launch as an opportunity to test and learn how educators use this feature within Pear Deck and gather feedback for future iterations. We're excited for you to put it to work and tell us what you think.
FAQs
What is Immersive Reader?
Immersive Reader is a service developed by Microsoft that encourages reading and improves comprehension with a full set of proven literacy-enhancing features. With Immersive Reader, students can activate multi-sensory, multilingual learning techniques like having text read aloud or translated into different languages, highlighting specific lines of text, changing fonts and sizes to improve readability, and even visualizing word meanings through illustrations.
Who can try it out?
Right now, all Pear Deck Premium users, including those who are on a trial of Premium, can enable this feature.
This is a Microsoft feature, so does it work for both Google Slides and PowerPoint?
Yes! The integration enhances the student experience and how individual students engage with text from their personal device. Regardless of whether a teacher created a lesson in Google Slides or PowerPoint, the integration will function for the student.
How does it work in Pear Deck?
First, enable Immersive Reader in your Pear Deck Settings (see below). Then, present your lesson as usual. Students who join your Session will automatically see the Immersive Reader button on every slide with readable text.
Immersive Reader renders text that is typed directly into your Google or PowerPoint Online slides. It cannot render text from images, Multiple Choice options added via the Pear Deck Add-on or Add-in sidebar, or New Questions in a live Session. To display multiple choice options or text from images in Immersive Reader, please be sure to type the text or multiple choice options in a text box on your slide before presenting.
Here's what Immersive Reader button looks like on the Student View: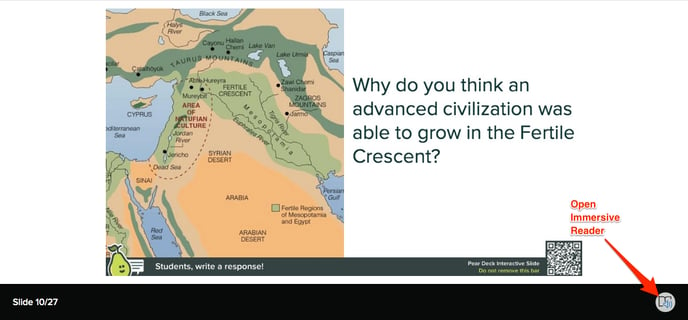 By clicking the button, students instantly access a host of tools to help them read the text on the slide. For example, the tools can read text out loud, break it into syllables, increase spacing between lines and letters, highlight parts of speech, change text size, and more.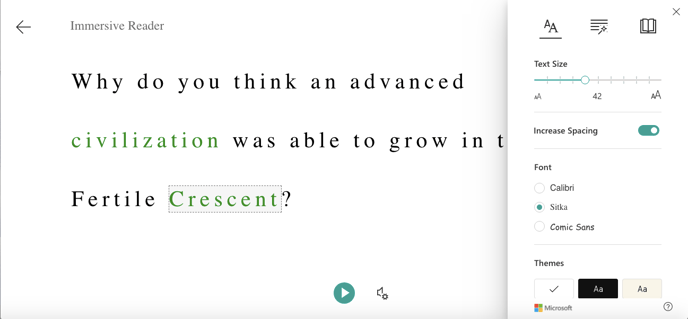 Students can click the back button to go back to the regular slide view. Learn more about Immersive Reader.
How do I enable it?
Go to your Pear Deck Settings page (Pear Deck Home > My Account > Settings). Go to the Immersive Reader setting and turn it on. This setting applies to all future Sessions until you turn it off.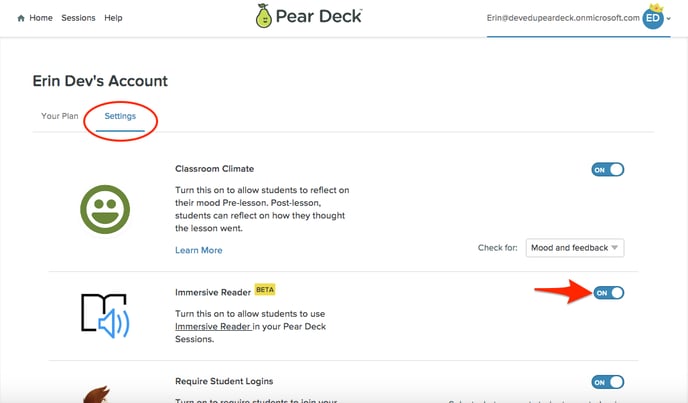 Does Immersive Reader work in Student-Paced Mode?
Yes!
Can my students open Immersive Reader with a keyboard only?
No, they will need to use a mouse, touchpad, touch screen to activate Immersive Reader via the icon.

Have more questions? Please email us at help@peardeck.com!