Overview
When you activate Classroom Climate, you get a new layer of information to help you engage your students and teach to the whole person. Here are some ways to use that data. Wait! What is Classroom Climate, and how do I turn it on?
In this article you'll learn how to...
Use Mood Data in Class
Use Lesson Feedback Data After Class
Use Mood and Lesson Feedback Data Together
Use Mood Data in Class
When you start presenting a Pear Deck lesson, students will join your session as always. But if you have turned on Classroom Climate, Pear Deck provides your students a quick prompt on their Student View to indicate their mood.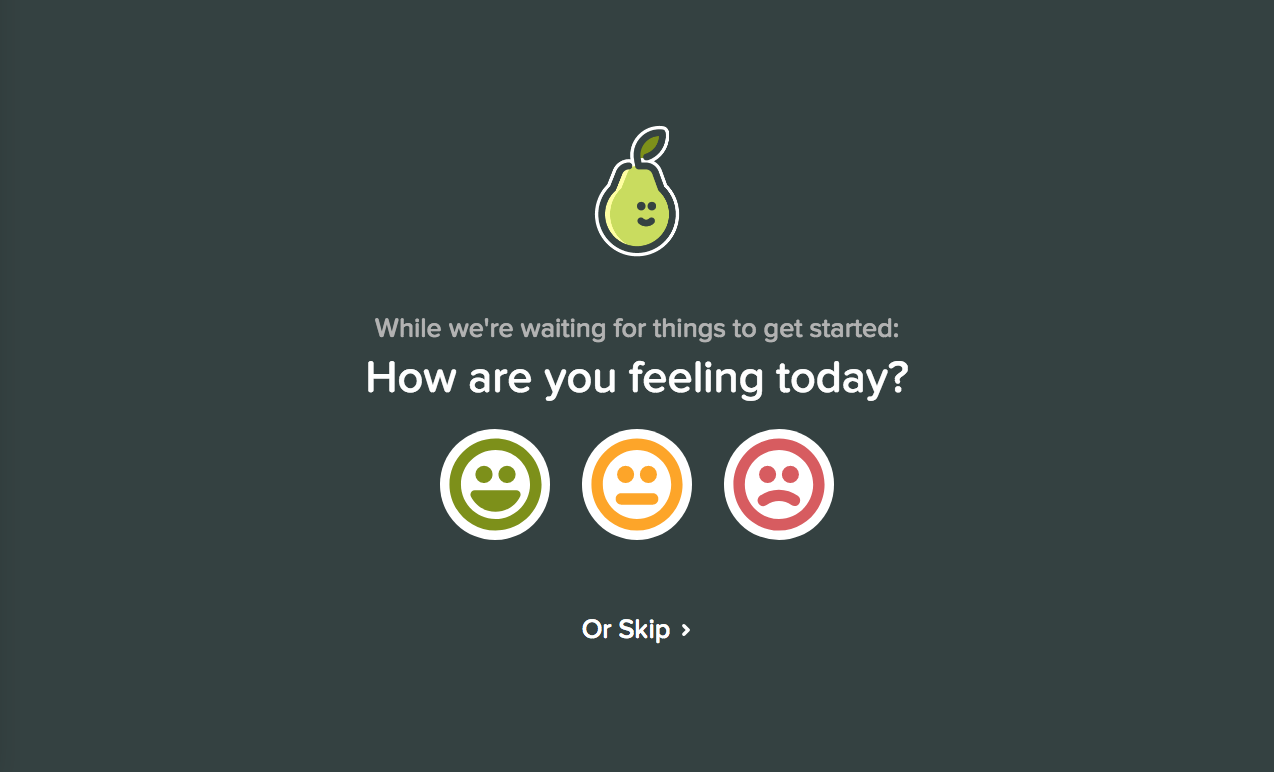 As the teacher, you can see responses to this prompt in the private Teacher Dashboard (a Premium feature). The response layout can be adjusted in the top left corner of the screen.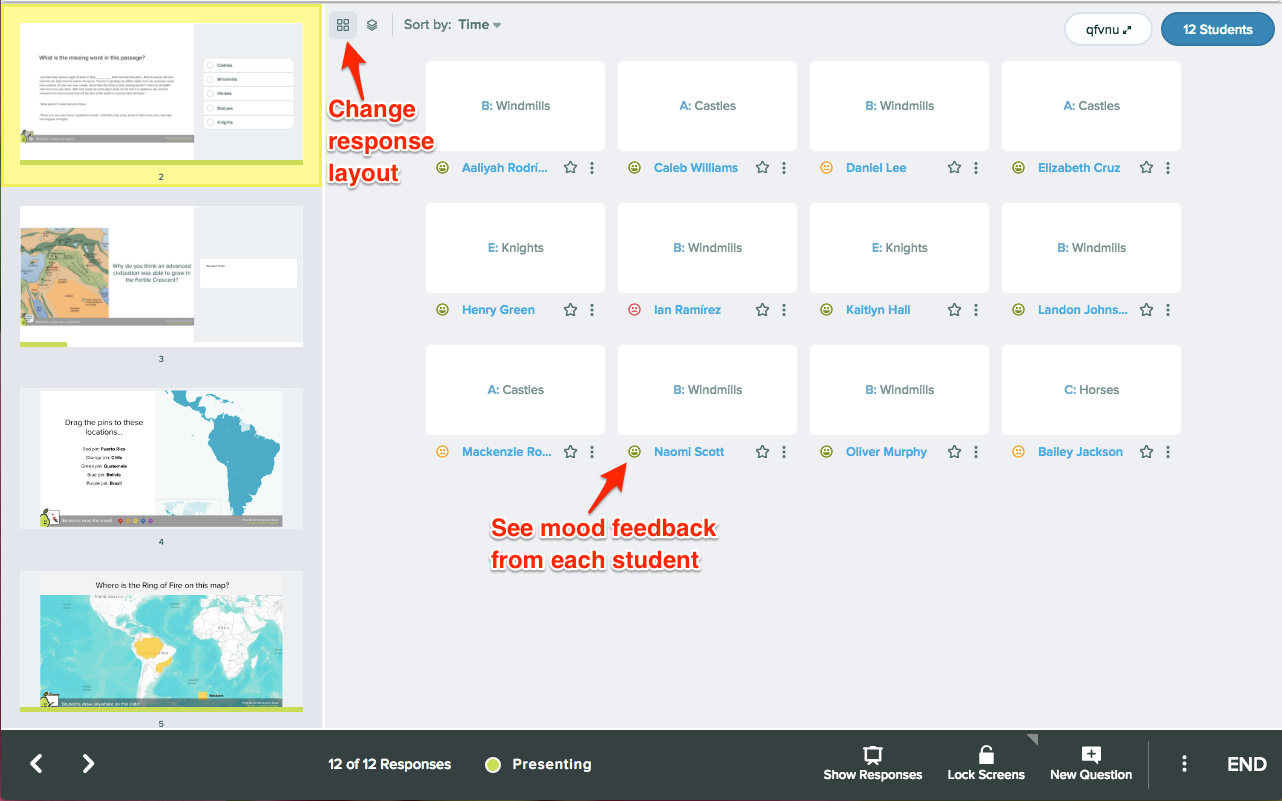 You can also click on the Roster in the Dashboard...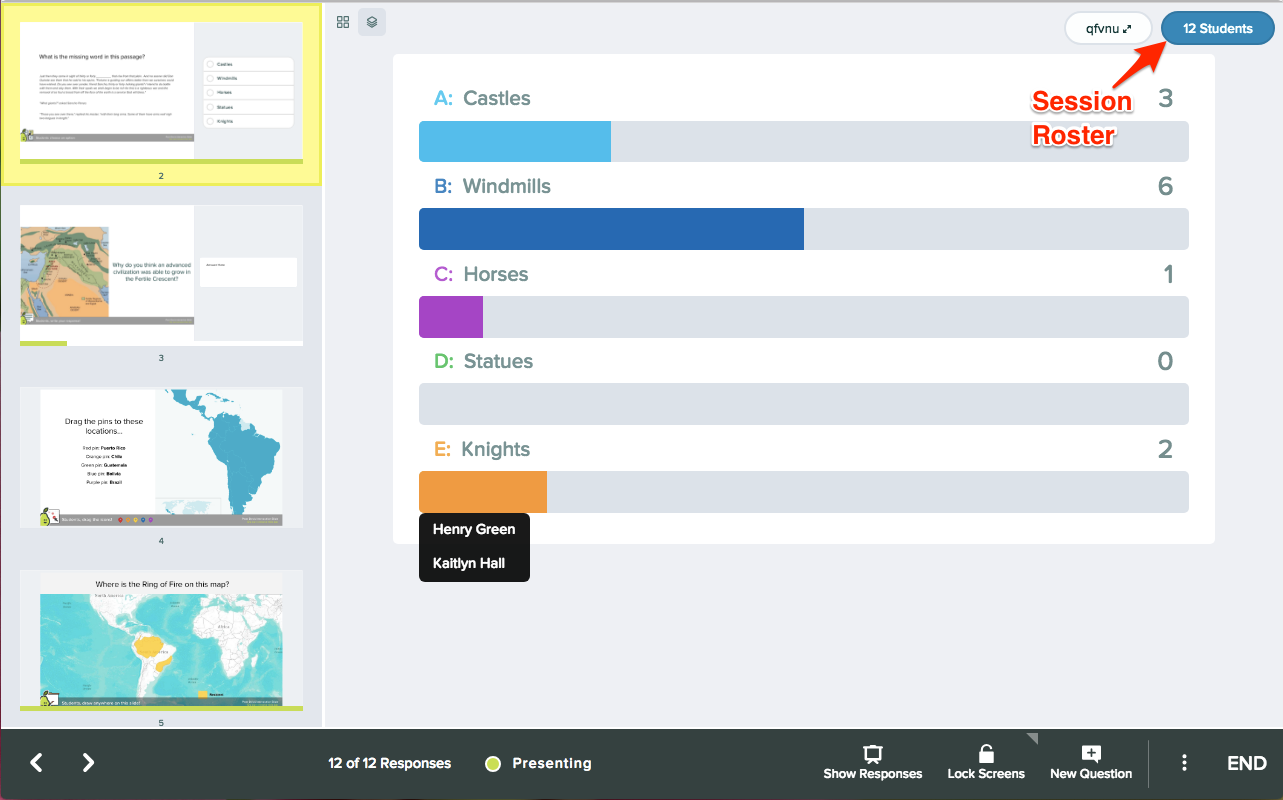 ...to see exactly who has joined your session and get an instant heat map of how students are feeling.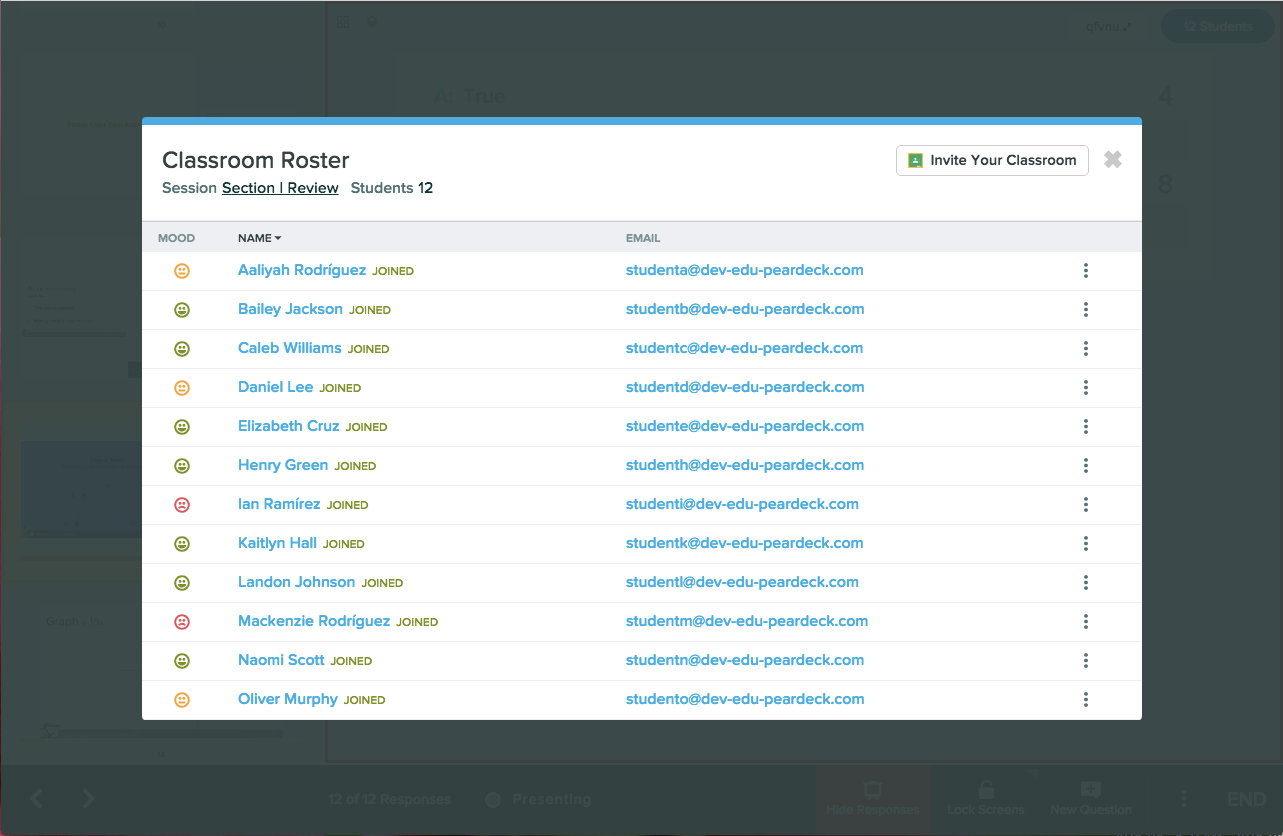 If you want a quick look at who's not doing so well, click on Mood to sort students by mood.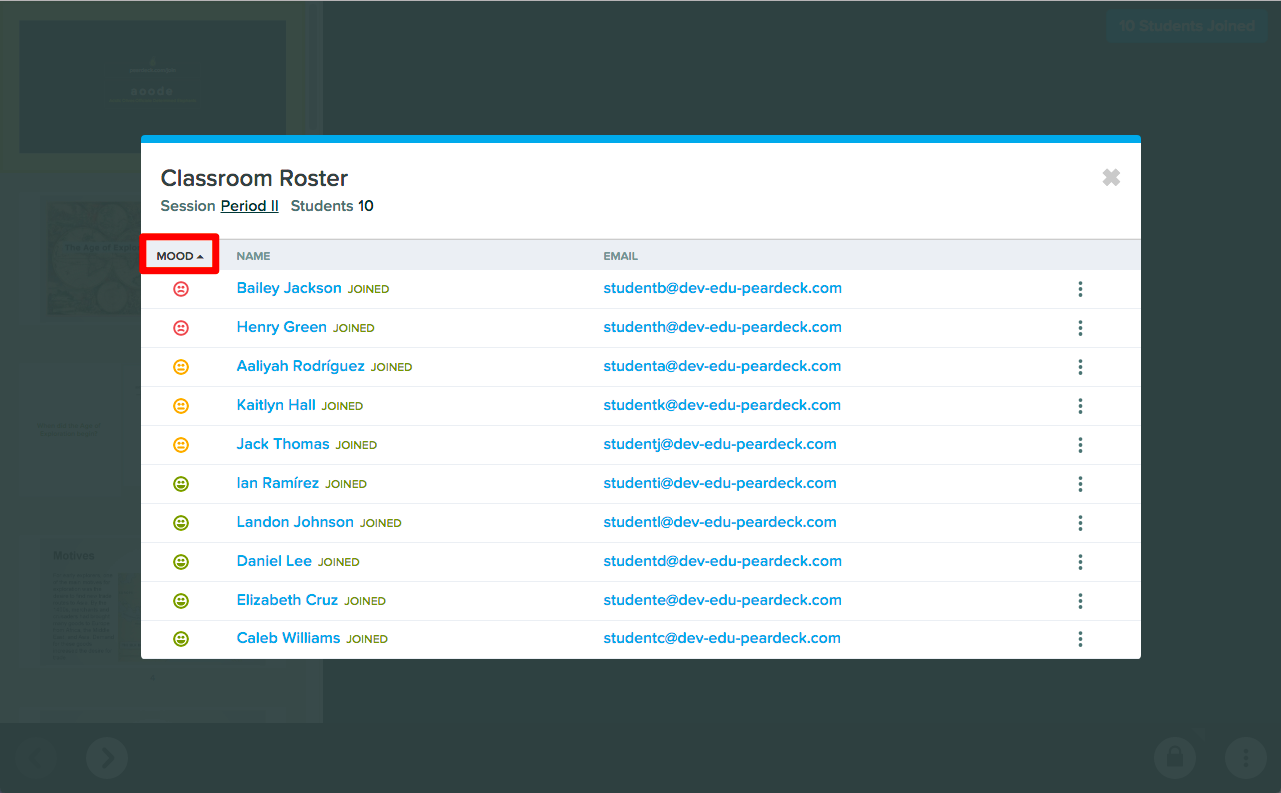 Now what?
Here are some ways this data might impact your lesson.
Let's say most students report being content and there are just a few sad faces in the room. Probably no great change is needed, but you can keep a closer eye on the students who reported feeling bad. They might be less eager to participate, and it might not be a great day to call on those students or put them on the spot.
Let's say a high percentage report feeling sad. This might have a strong impact on how well your lesson goes. It might be worth it to pause. If most students aren't in a space where they can be receptive to information, then maybe it's best not to plow ahead. Instead, you could check in with the group.
If you are concerned or curious about the mood data, hover over the bottom of any slide to open the Navigation Bar. Then, click the New Question button to create a new Interactive Slide for students to respond to.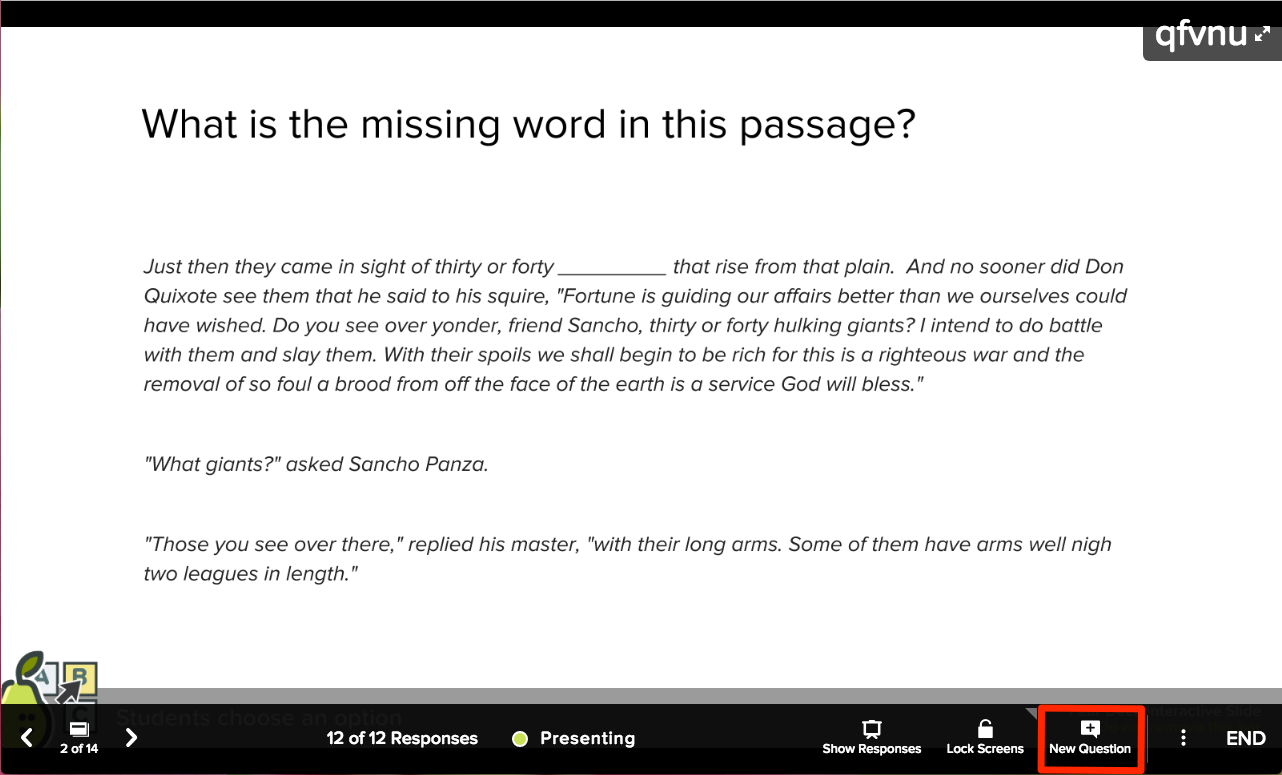 When prompted to choose a new question type, choose a Text Question. Then, verbally prompt students by saying something like,"What made you choose the face you chose?" Maybe something's going on in the student body that needs attention. Or perhaps students are tired because they have a big test next period, and they need a pick-me-up. Even if you proceed with your lesson, you can be sensitive to their emotional state and potentially alter the tone or pacing.
Using Lesson Feedback Data After Class
When the lesson is over and you're ready to collect feedback from students, be sure to end the Session by clicking the More Actions (three-dots) menu or the END button.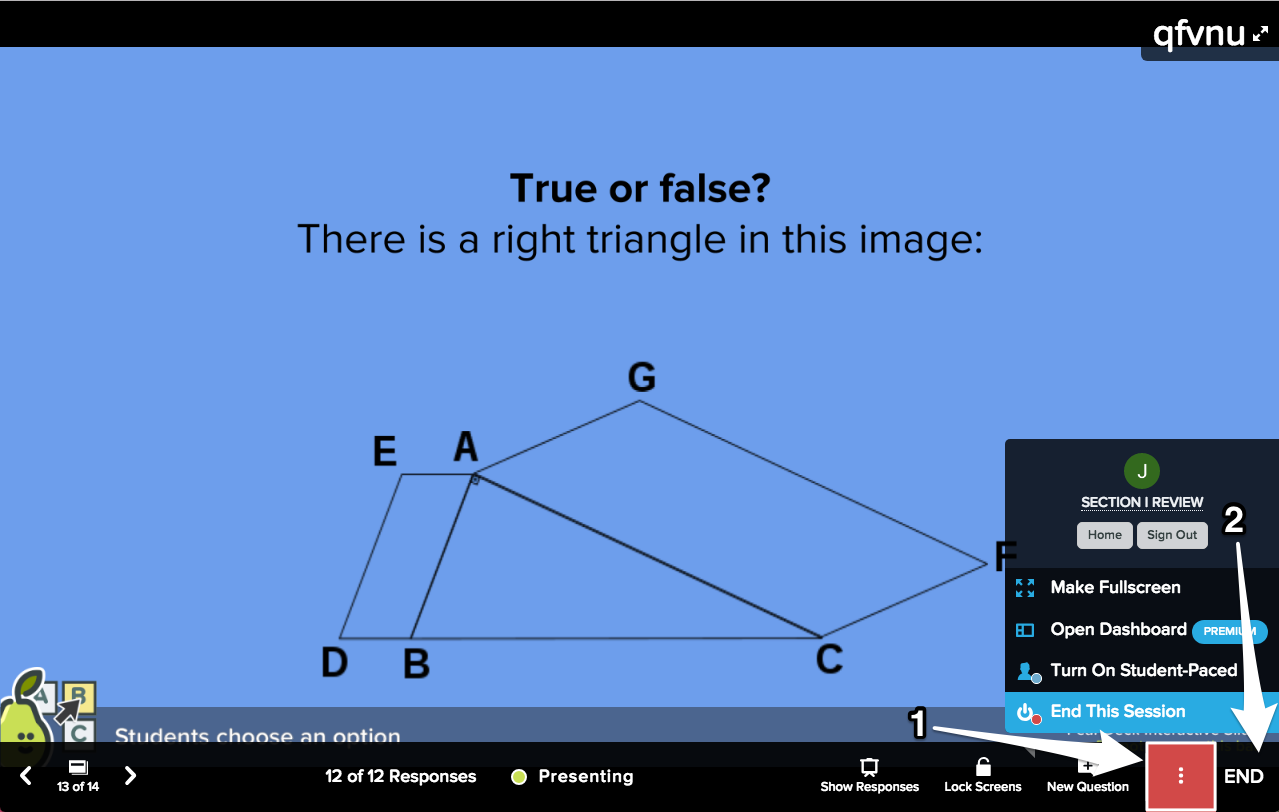 Then, Pear Deck will drop a question into the Student View that says "How did it go?" Students can select the thumbs up or thumbs down.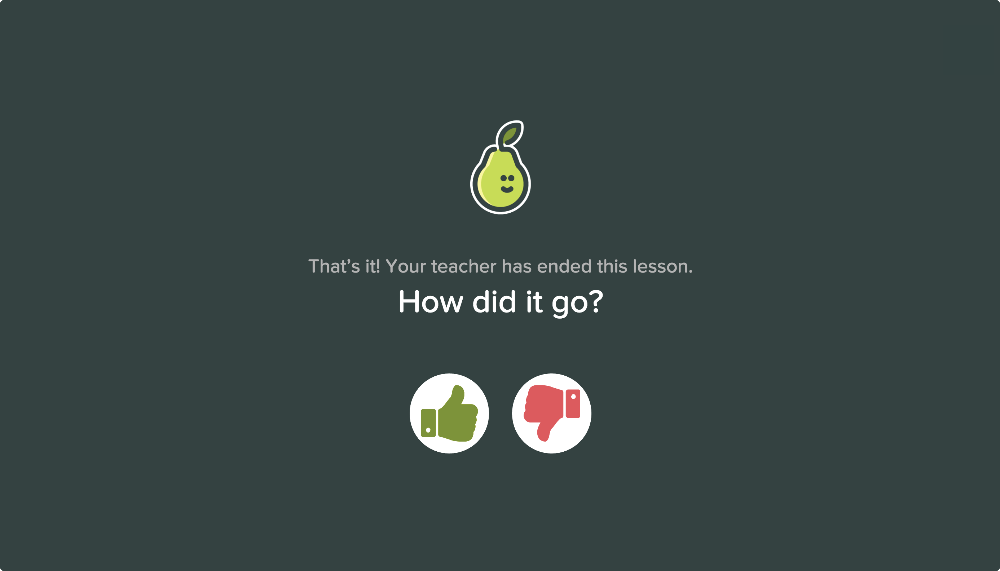 They will have an hour to respond before the poll closes. With this data, you can get a quick sense about whether students liked the lesson and felt engaged by it. We have intentionally left the polling question broad to make sure it fits all different kinds of classes. Feel free to give students more specific direction like, "Tell me with the thumbs up or down, did you think this lesson was engaging?" or "Do you think you learned something from this lesson?" With this data you can scan for the most engaging lessons and try to emulate them later.
Here's how to find this information later:
Open your Pear Deck Home screen.
Go to the Present a File section of the page. Or, go directly to Sessions.
Click on a Deck title (File Name) to see all of its Sessions.
Click on either the student attendance number or the thumbs up rating to open the roster and see Classroom Climate information.

Using Mood and Lesson Feedback Data Together
When you click on either the student attendance number or the thumbs up percentage, as shown in the image above, you'll see a full report on each student's mood and feedback:
Now you can identify correlations between a student's self-reported mood and how well they thought the lesson went. This can be helpful for a number of reasons:
You might find that many of thumbs down ratings came from people who also said they were not in a good mood. However, if a lot of students who said they were in a good mood also gave a thumbs down to the lesson, perhaps the lesson wasn't meeting the intended mark and should be altered before using it again.
If the same student is repeatedly reporting a bad mood and rating the lesson with a thumbs down, this might be something to pay attention to. If that student is an emotional state each day that prevents them from learning, some kind of intervention might be needed.
Teaching social skills and emotional awareness is a huge job, and this kind of check-in is just one piece of it. If you're eager to read more about this important topic, we recommend Teaching Social Skills to Improve Grades and Lives by David Bornstein.