Overview
Flashcard Factory is a game in which students create their own flashcards. Students write definitions and draw illustrations for the terms you provide in a Vocabulary List. You (and your class if you choose) get to approve the final set of Flashcards. Finally, you can print the cards or export them to Gimkit and play fun review games! Please note: Pear Deck Vocabulary and Flashcard Factory are only available to users who log in with Google at this time.

Wondering if you can play the Flashcard Factory game in a remote setting? You can! But there is a little trick to joining so students work on the cards alone. Click here to see how.
What you need to play
For the teacher: A computer to run the game. Having a way to display your screen so that students can see the factory is optional (but recommended).
For the student: A computer, tablet, or phone to play the game.
Both teacher and students need a Google account to log in.
Steps of the Game
I. Launch the Flashcard Factory
III. Students Make Cards in the Production Phase
IV. Approve Cards in Quality Control
V. Print or Export Set to Gimkit
I. Launch the Flashcard Factory
Go to Pear Deck Home.
Open a saved Vocabulary List from Drive or start a new one.
In the new window, click Start Flashcard Factory. Or, click Edit to make changes to your List before playing. Optional

: Hook your computer up to a projector so students can see the Flashcard Factory Floor during the game.
II. Students Clock In
Students join the game by following the instructions on the Join Screen. If you've used Pear Deck Slides before, this is the same process! The process for joining the game depends on whether you play in a classroom setting, or remotely.

Clocking in, together in the classroom
Students go to joinpd.com.

Enter the five-letter Join Code from your Projector View.

Sign in with their Google accounts.

Once everyone has joined, the teacher goes to the Projector View and clicks

Clock in! Students are paired up automatically.

If students come to class late, they can still join, but they will work on cards alone. The Join Code is displayed on the bottom of the screen throughout the game.



The terms from your List will be randomly assigned to students in the Student View. One student in the pair will be assigned to the task of writer. The writer will be prompted to write an example sentence or definition (depending on whether you provided definitions in the List) for the term. The other student will be illustrator. The illustrator is prompted to draw an image that corresponds to the sentence the writer is writing. These roles alternate for each term.
Clocking in remotely
When you play the game remotely, you want to make sure students join without being paired up, so they can create the cards on their own.
Locate your Vocabulary List on your Pear Deck Home and press Start Flashcard Factory or Play Flashcard Factory to start a new game (see Step One above).
Important: Before students join the game, click Let's Play!, leaving this screen empty:

You're in the Production phase.
Now students can go to joinpd.com. They enter the Join Code located in the bottom left corner of your Production Phase view (above), then sign in with their Google accounts.
On the Student View, students create their own cards and receive prompts to both draw and write examples for each term in the List.

III. Students Make Cards in the Production Phase
In the Production Phase, students create their own Flashcards with a Drawing and a written example (or definition).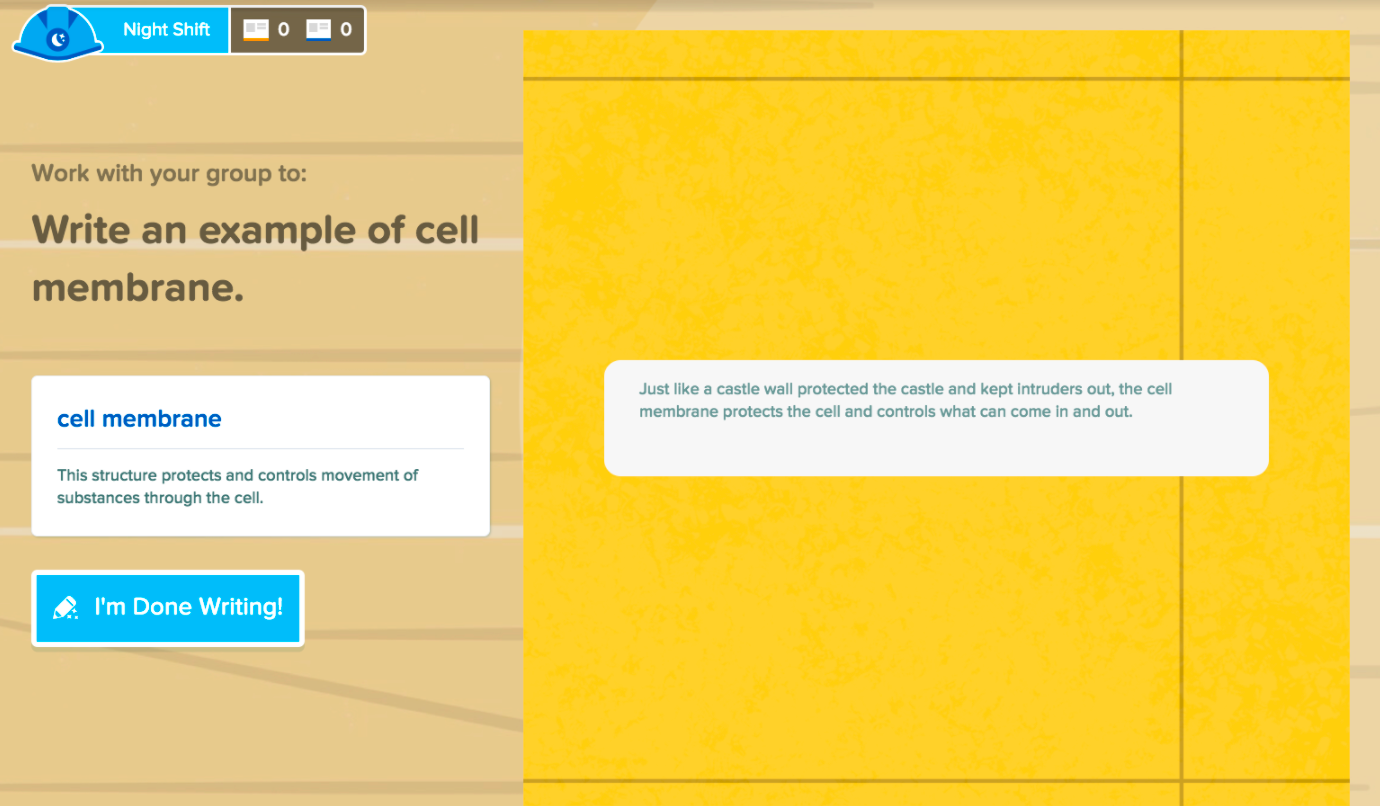 When they're done, they review and submit the cards for approval.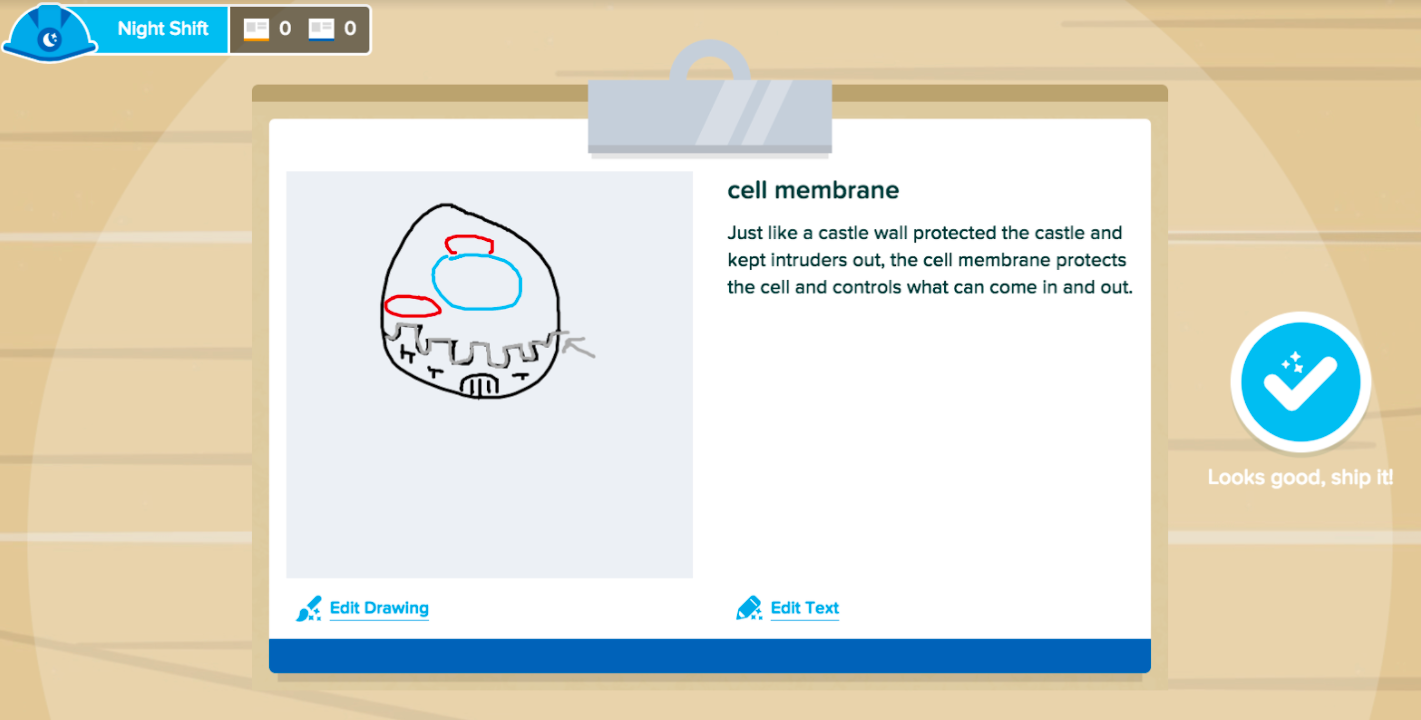 Once students submit the written example and illustration and click the ship it button, they can no longer edit the card! After submitting a card, students are assigned a new term. If they're working in pairs, the roles switch, so the writer becomes the illustrator this time, and vice versa. On your Projector View, you can see the cards tumble down the chutes and onto the conveyer belt as they are submitted.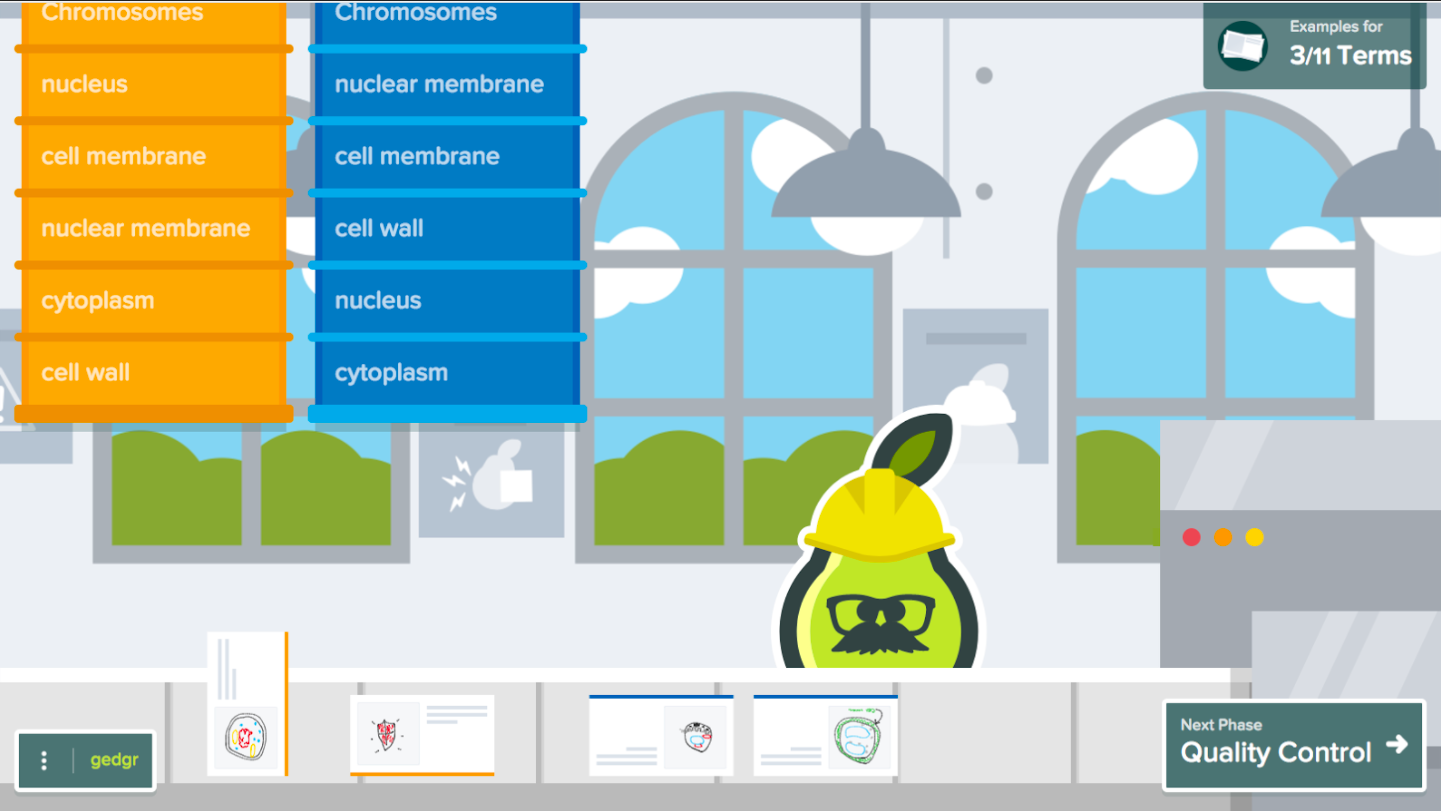 Do your students need to finish cards later?
You can reopen any Session in your Sessions menu. Go to the Production Phase. Then give students the Join Code; they can go to joinpd.com, sign in, and complete unfinished terms. However, once a card is submitted it cannot be edited, so if you want students to re-do cards, you'll need to start a new Session (you can start an unlimited number of Sessions).
IV. Approve Cards in Quality Control
When you're ready to evaluate cards, go to the Quality Control Phase.

You can review cards and accept the ones you want to include in the final study set. You can do this on your own, with students in the classroom, or on a virtual call in which you share your Projector View. In Quality Control, students' screens freeze so they can focus on the Projector View and/or stop working.
Click on a card thumbnail to open it in the main window.
Accept or reject it. It's okay to accept more than one card for the same term. If you reject all of the examples for a particular term, we'll still put the term and definition on the final flashcard set, but there won't be an example on it.
If you need to see who created a card, hover over it in the conveyor belt. We made this subtle to help retain anonymity on the Projector View as much as possible.
V. Print or Export Set to Gimkit
When you're ready to ship the final set, click Shipping (see image above).
In the Shipping Phase, click Print or Export Set.
A new window opens. Click Print Flashcard Set

or

Export to Gimkit

.

If you choose Print, the Print menu opens. If a Flashcard does not have a definition, example, or image, we provide space for students to fill in their own copy or image after printing.
If you click Export to Gimkit, you get a direct link to your set in Gimkit on your Projector View, and students get the link on their screens. Teachers who are new to Gimkit need to create a free Gimkit account. But when you publish a Pear Deck Flashcard Factory set to Gimkit, it lives in the Pear Deck account, and you can always come back and play for free! However, if you copy a Flashcard Factory set to your own Gimkit Basic (free) account, the games will be subject to a 5-person limit. Learn about Gimkit subscriptions.
If you have questions, please write to help@peardeck.com!