Overview
In the Flashcard Factory Game, students work together to create the best flashcards by writing example sentences and making illustrations for your list of vocabulary terms. At the end of the game, the teacher and students can review the cards and select the final set together. Finally, the teacher prints the final set or exports it to Gimkit. Please note: Pear Deck Vocabulary and the Flashcard Factory are only available for users who log in with Google at this time.

Help your students increase retention and strengthen the classroom community with this fun, team-oriented vocabulary game! By creating their own cards, students have a greater opportunity to internalize new information and get actively engaged in the entire learning process.
How to play the Flashcard Factory Game
Create a Vocabulary List
Go to Pear Deck and log in as a teacher. Or simply open your Pear Deck Home. Please note that you must log in with a Google account to play the Flashcard Factory game.
Click Create a Vocab List.
Add terms to your list
You can paste in your own list, type in terms, and click the three-line menu button to find a Vocabulary List by Subject. Merriam-Webster is on call to help you fill in definitions as you go. You decide whether or not to provide definitions. During the game, students get to write an example for each card, so you can instruct them to write definitions instead. Learn all about creating a list.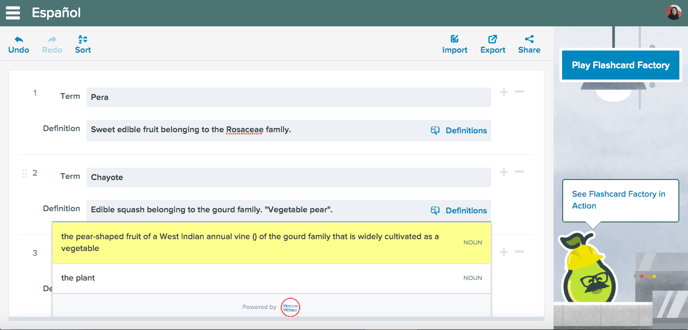 Play the Flashcard Factory Game
The Flashcard Factory is most fun when you project the game in front of the room. It's not technically necessary though, so if you don't have a projector, no worries.
In the Vocabulary Editor, click the blue Play Flashcard Factory button (see image above).
Pear Deck displays instructions on your screen (the Projector View) telling students how to join the game. Just like they enter a Pear Deck Slides Session, students need to go to joinpd.com, log in with their Google Account, then enter the code displayed on the Projector View (qtpik, in the example below).
You see students' names appear on the upper right side of the screen as they join. When everyone has joined, click Clock in!
Students are automatically assigned a partner to create example sentences and illustrations for the new terms during the game. If there is an uneven number, a student will work on cards alone. Click Shuffle Teams to redistribute students
Once they have joined the session, click Let's Play to enter the Production Phase.

Students can start creating their cards on their screens (the Student View). You can review the cards on the Projector View and choose the best examples to be included in the final Flashcard Set.

See what the game looks like here.
Choose your final flashcard set
When you're ready for students to stop working on cards and you want to decide which ones to send to the final set, go to the Quality Control phase.
In Quality Control, you can approve (or dismiss) cards for the final set. The whole class can weigh in as you show the Projector View.
After completing the Quality Control phase, click the Shipping Phase button.
See who made each card

Pear Deck is designed to show answers anonymously by default so that every student participates without fear. But there are times when you need to know who did the work, and you can do this in a subtle way on the Projector View. The best practice is to do it on a private screen. If the card is distracting or better handled privately, you can click the "x" to remove it from the main screen and keep it out of the final set.
1. Open the Flashcard Factory game. You can do this during a live session, or reopen the game later in your Sessions menu.
2. Go to Quality Control.
3. Place your cursor over the card and wait a few seconds. The name will appear.
Export, print, and review the cards
In the Shipping Phase, click Print or Export Set.
A new window opens. Click on Print Flashcard Set

or

Export to Gimkit

.
If you choose Print, the Print menu opens. If a Flashcard does not have a definition, example, or image, we provide space for students to fill in their own copy or image after printing.
Your students can also play fun study games with their cards! If you click Export to Gimkit, you get a direct link to your set in Gimkit on your Projector View, and students get the link on their screens. Teachers who are new to Gimkit need to create a free Gimkit account. But when you publish a Pear Deck Flashcard Factory set to Gimkit, it lives in the Pear Deck account, and you can always come back and play for free! However, if you copy a Flashcard Factory set to your own Gimkit Basic (free) account, the games will be subject to a 5-person limit. Learn about Gimkit subscriptions.
Looking for a set that you published with Pear Deck's previous Quizlet integration? Even if you published it to Quizlet, you can still open it again in your Sessions menu. Please read Studying with Flashcard Factory Sets for detailed instructions.
We hope you enjoy this interactive experience with your students in Flashcard Factory! Please email help@peardeck.com with questions.