Overview
This page is for administrators whose schools or districts use Google for Education. Apps like Pear Deck are, by default, not allowed in EDU domains. In order for teachers to get the Pear Deck for Google Slides Add-on, the Google Administrator must set permissions for users in their Google Admin Console. There are two different ways to accomplish this:
Install Pear Deck in all users' accounts
Follow the steps below to automatically install the Pear Deck for Google Slides Add-on for every teacher in your Google domain. You can also follow Google's instructions.
1. Open the Google Admin Console.
2. Select Apps.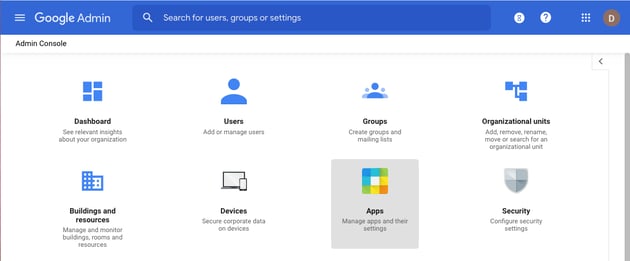 3. Select Google Workspace Marketplace apps.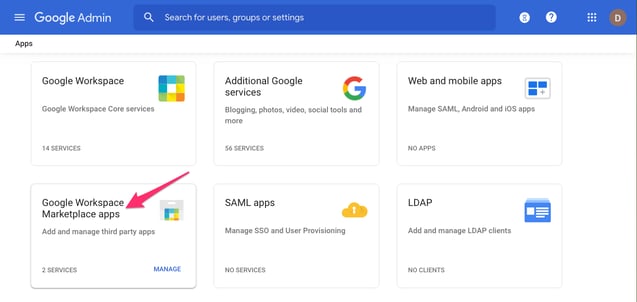 4. Select Add app to Domain Install List.

5. In the Google Workspace Marketplace, search for and select Pear Deck for Google Slides Add-on.

6. Select Domain Install.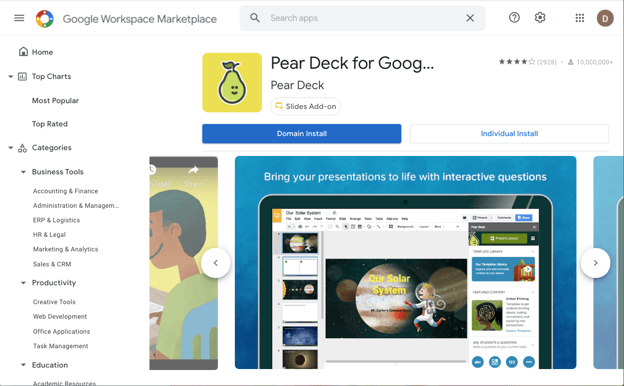 7. Follow the Domain wide install prompt, then grant the Pear Deck for Google Slides Add-on permission to access data (learn more about why we need access to your Drive files).
8. Go back to your Google Admin Marketplace page and click the refresh button. When you see Pear Deck listed there, the domain installation is complete!

9. Now teachers can open the Pear Deck sidebar in Google Slides. They just open a Google Slides presentation, and go to Add-ons > Pear Deck > Open Pear Deck Add-on. Please note that it may take up to 24 hours for Pear Deck to appear in every user's Google Slides menu.
Allow Pear Deck in the G Suite Marketplace
To allow teachers to install the Pear Deck Add-on for themselves, rather than automatically installing it for them, please follow Google's instructions in the article Allow or restrict add-ons in Docs editors under the section titled Allow users to install and use add-ons from outside your organization.
If you have questions, please email help@peardeck.com!
Article by Erin M.