Overview
The first step to engaging your students with interactive presentations is to create a new Pear Deck account. To do this, simply log in with a Google or Microsoft Office 365 account from the Pear Deck website, Google Slides, or PowerPoint Online. Here's what you need to know to get started:
Account requirements for Pear Deck
How to create an account. You can choose one of these options:

Account Requirements for Pear Deck
To create and present Pear Decks, you'll need a Google or Microsoft Office 365 account. This means that:
You can use a personal, educational, or business account.
Pear Deck files you create are saved automatically in your Google Drive or OneDrive.
If you log in with Google, you can automatically generate student notes documents called Takeaways™ in Google Docs (a Premium feature), or export student responses to Google Spreadsheets.
If you have Google Classroom, you can invite a Class to join with Google Classroom in the Dashboard, and post Takeaways™ links to their Classroom feed.
Teachers logging in with a Microsoft Office 365 account can invite students to join their presentation Session in Microsoft Teams.
You can require students to sign into your Sessions with their Microsoft Office 365 or Google accounts. This way you can see exactly who joins your presentation Sessions and responds to interactive questions. You can make login anonymous, too. Learn more here.
Pear Deck is a great fit for schools that use Google Apps for Education

or Microsoft 365 for Education! If you are a school Administrator, please reference the following pages to make sure teachers can get Pear Deck at your site:




Start from the Pear Deck website
1. Go to peardeck.com and click For Teachers.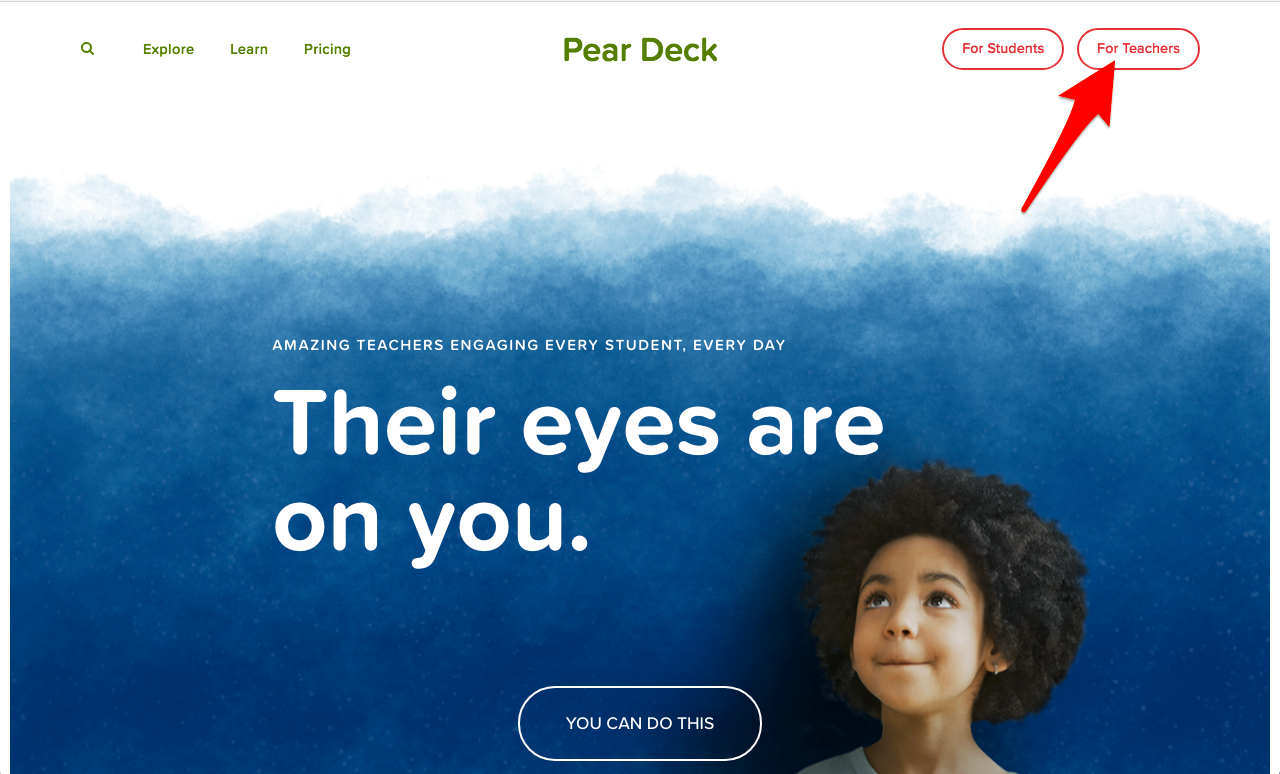 2. Choose the type of account with which you want to log in.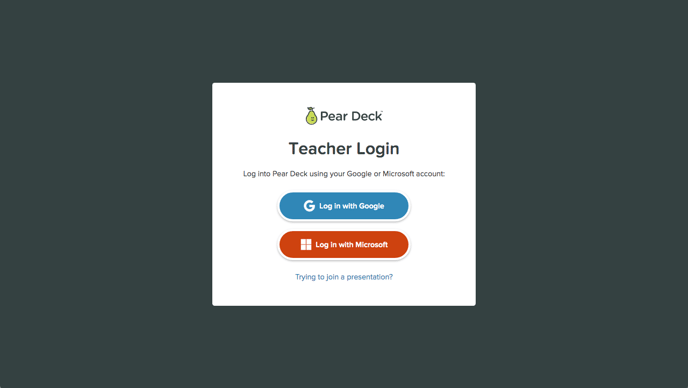 3. You'll be asked to grant Pear Deck access to your Google Drive or OneDrive. Then, answer a few account setup questions. We do not collect data from those who choose Student*.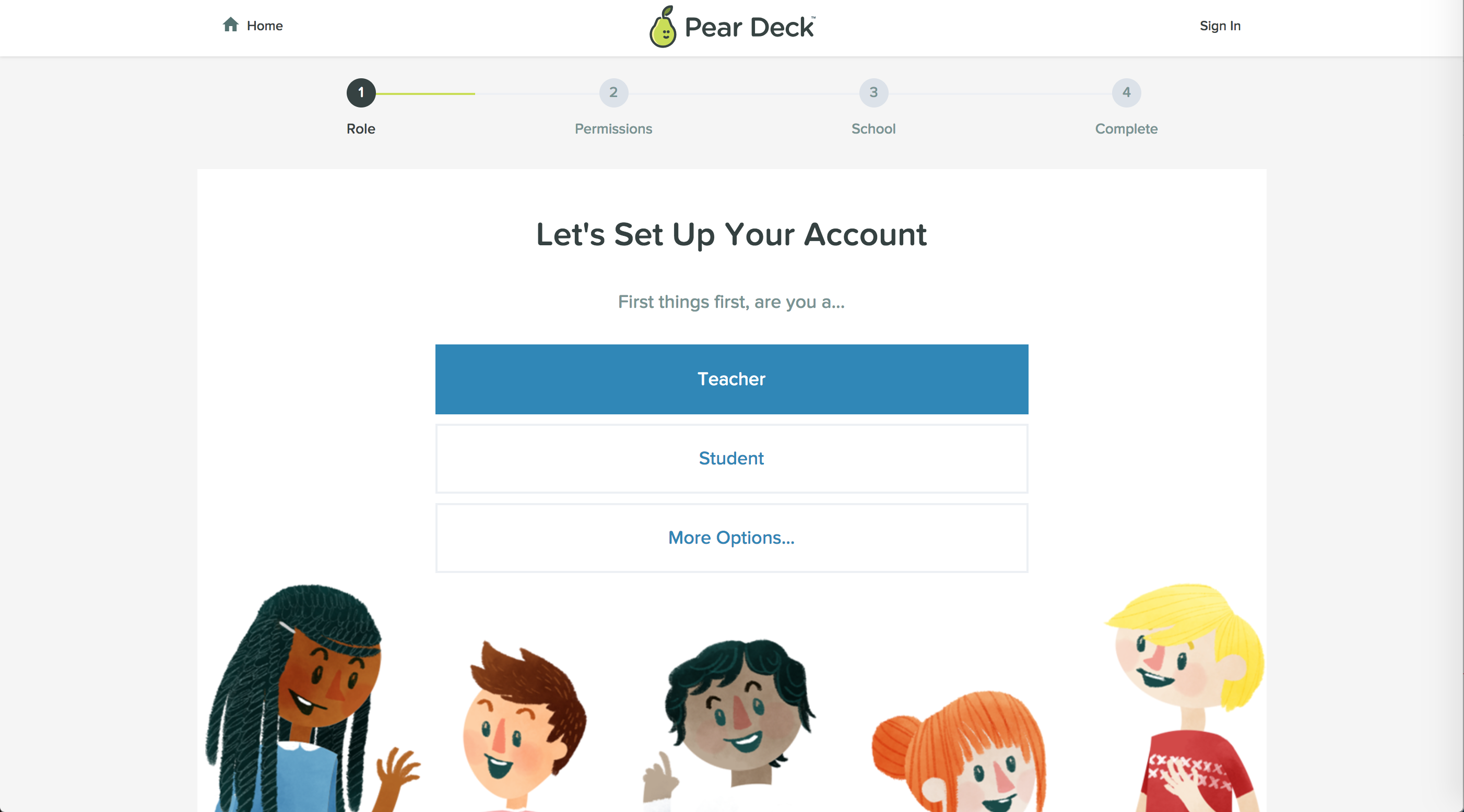 Click Authorize to connect Pear Deck to your Google Drive or OneDrive. You'll be prompted to sign in with your email and password and you will be asked to grant Pear Deck permissions.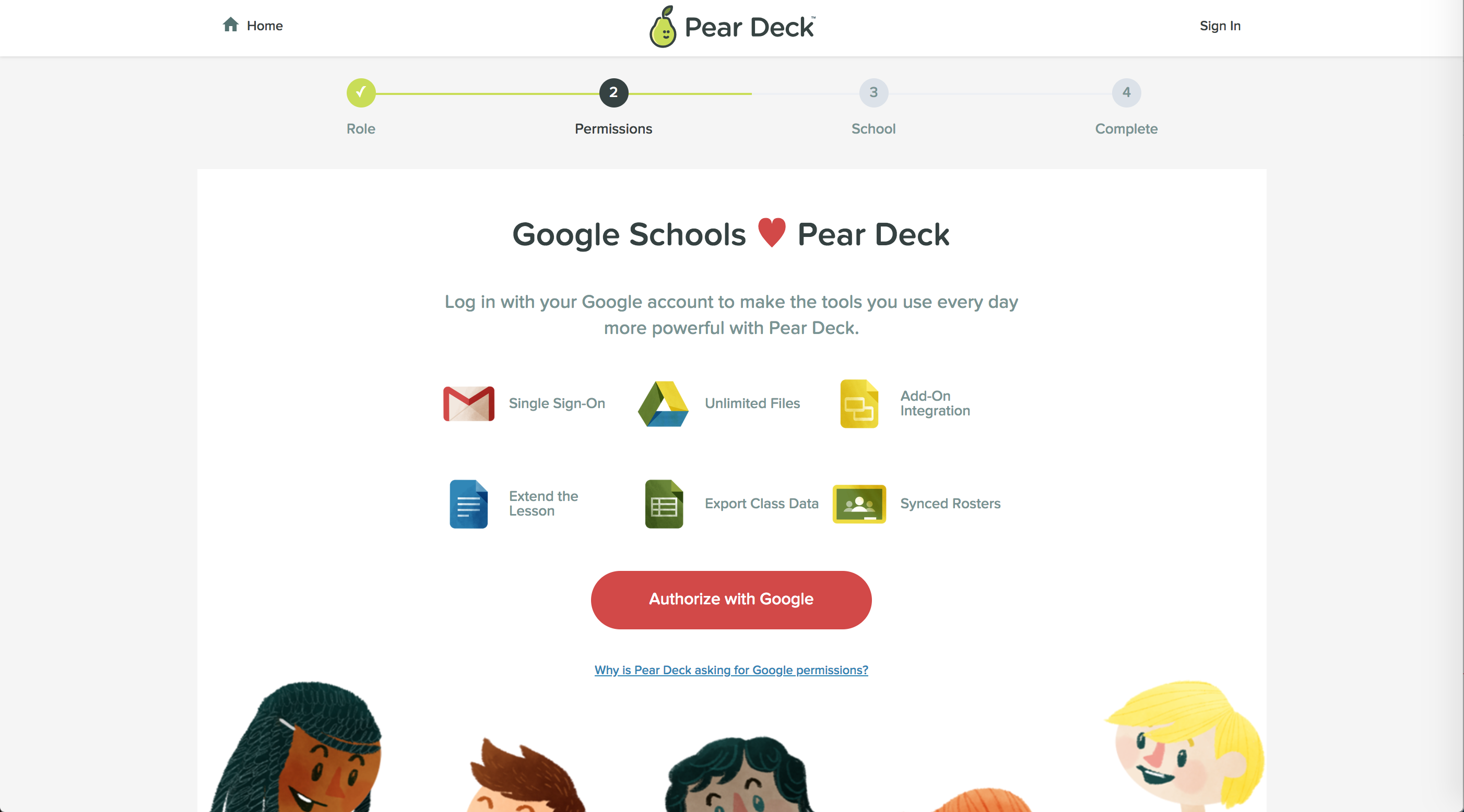 Enter your postal code and school.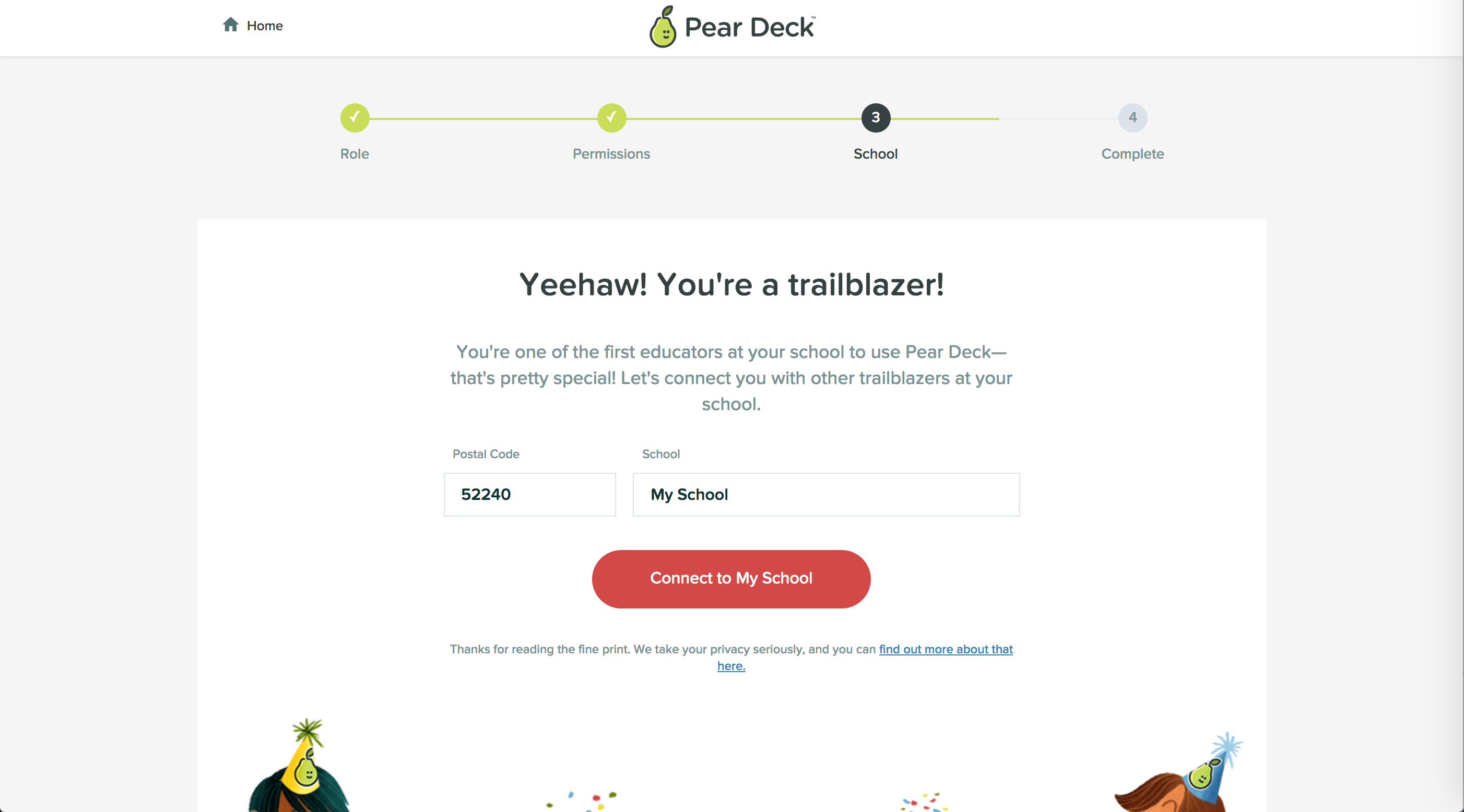 You're all set! Click Get Started to start a new presentation with interactive questions. Your free 30-day trial of Pear Deck Premium will begin automatically!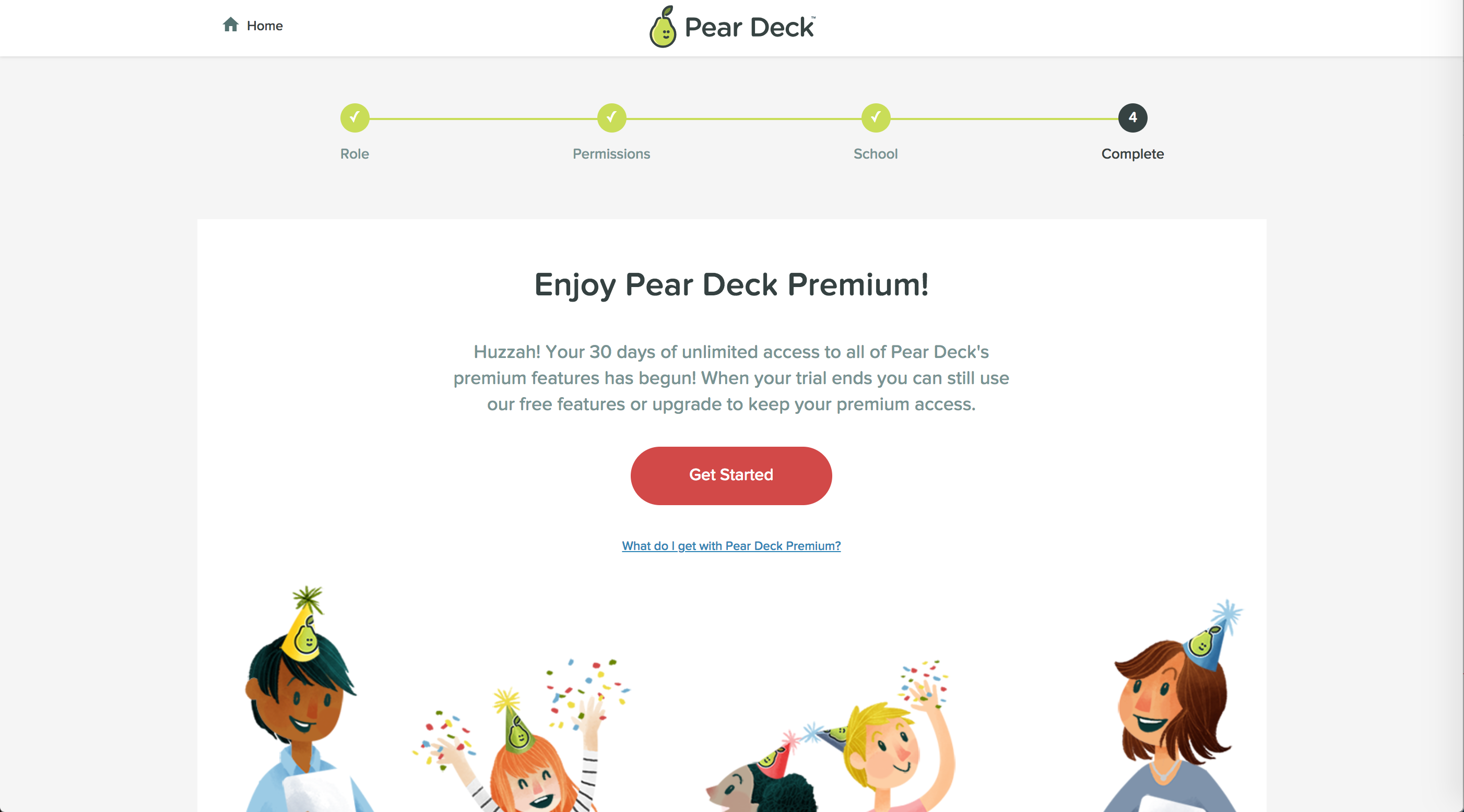 Start from Google Slides
If you're signing in with Google, you can can create a Pear Deck account and get the Pear Deck Add-on in Google Slides. Here's how:
1. Open any Google Slides presentation.
2. Get the Pear Deck for Google Slides Add-on:
Click Add-ons > Get add-ons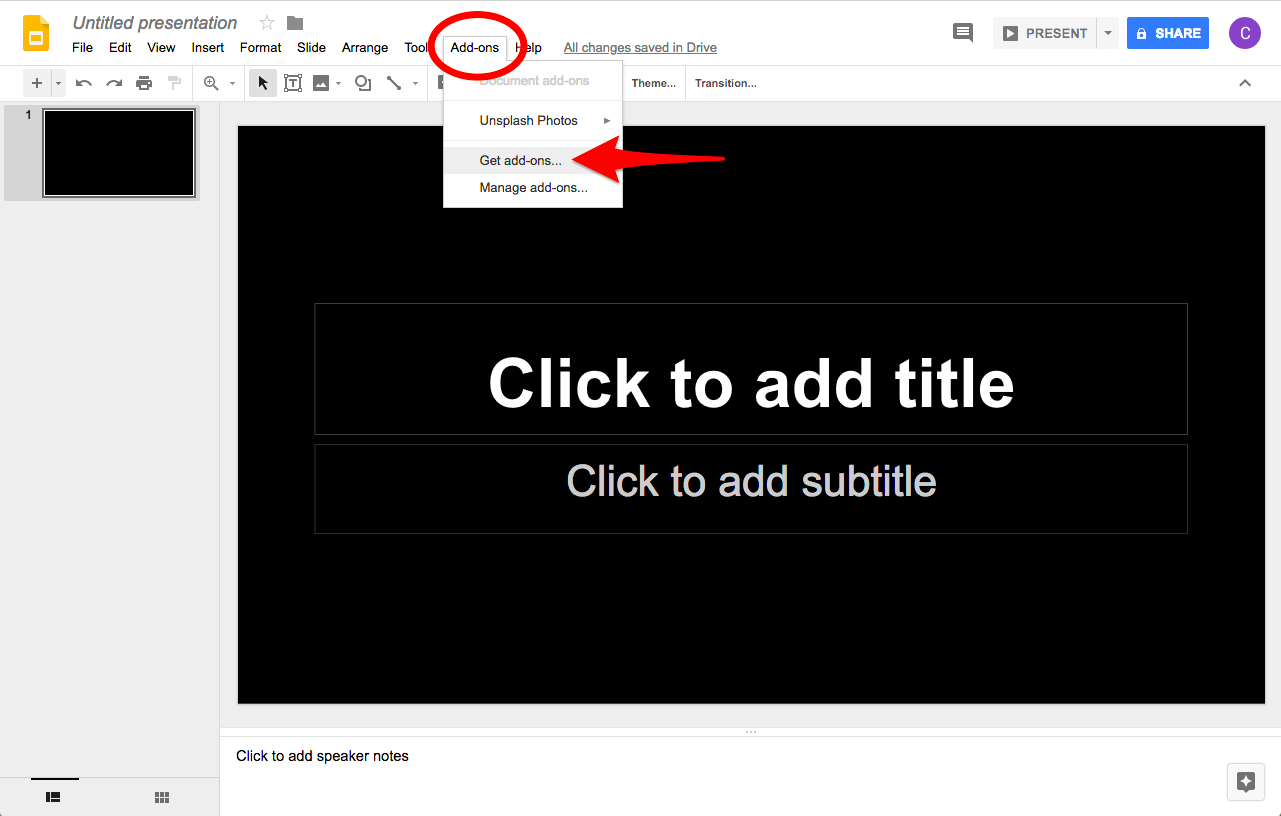 Find Pear Deck. Click the Free button to install this Add-on.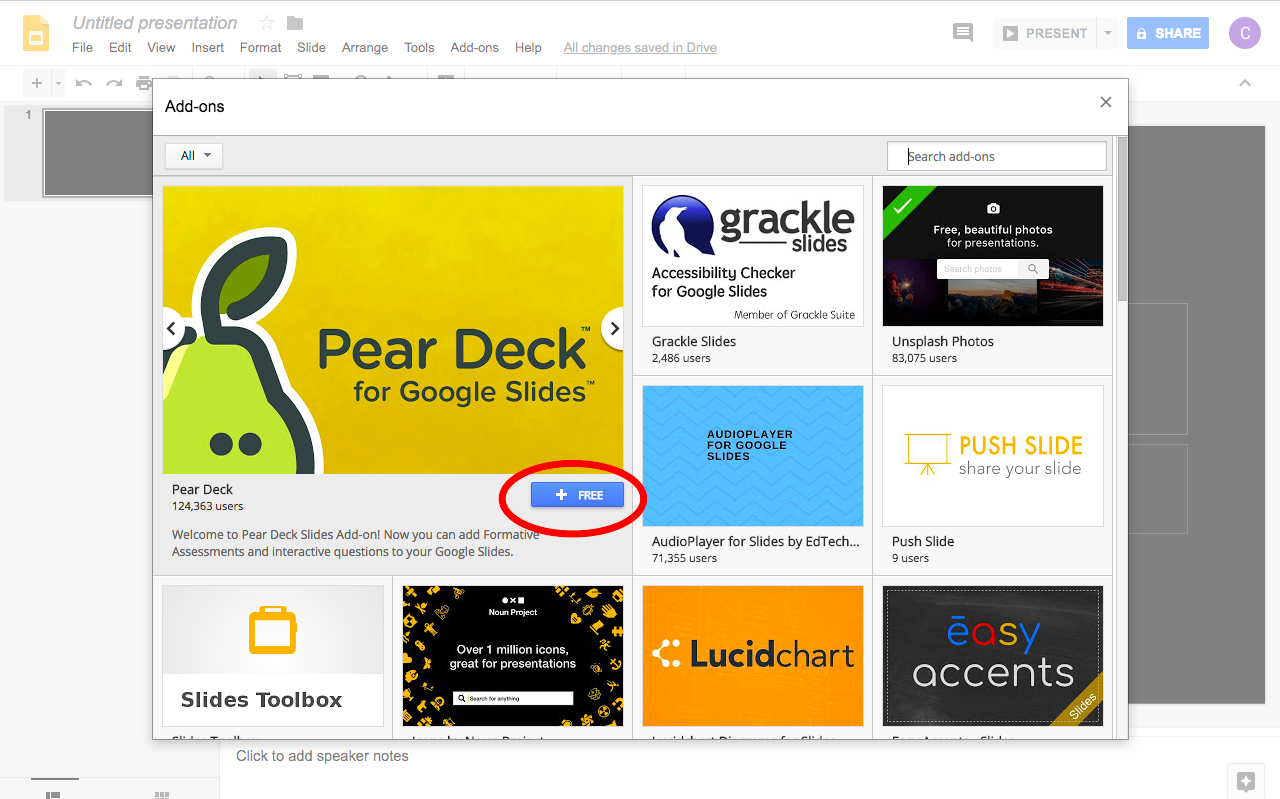 Choose your Google account.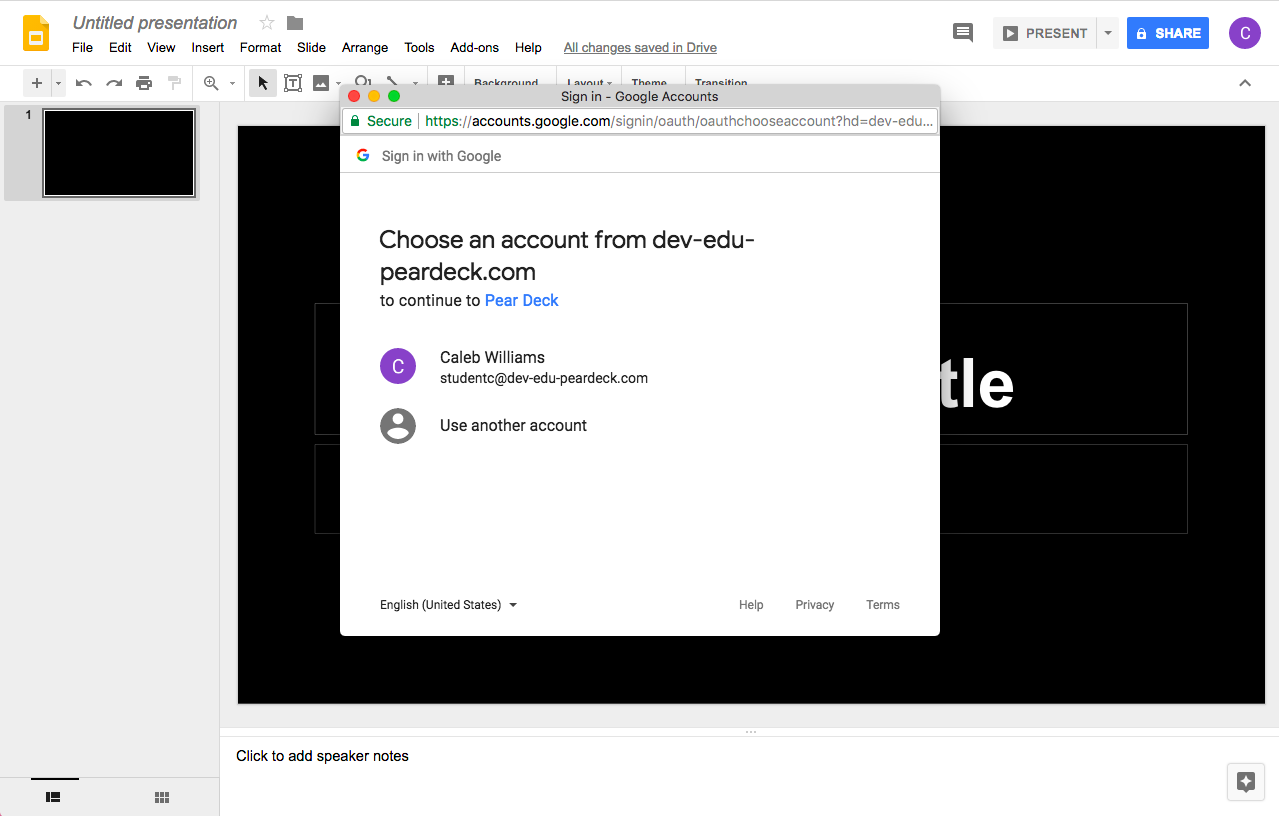 Because Pear Deck files are stored in your Google Drive, we ask for third-party app permissions to access your Google account. We only access the files you ask us to when you use the app. For example, when you want to make a Google Slides file interactive, we access that file so we can add the interactive questions to it. To learn more about our approach to data privacy, please see the Pear Deck Commitment to Privacy.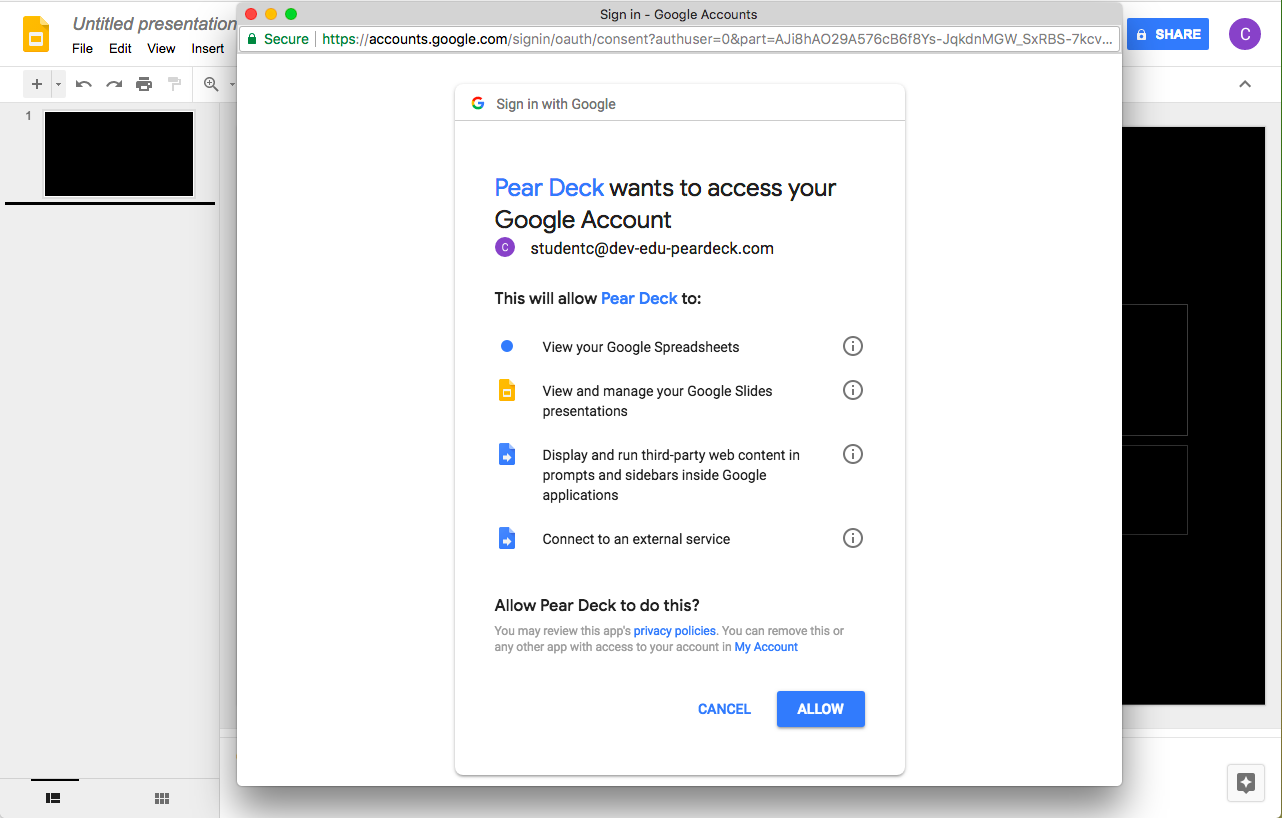 Now that you've installed the Pear Deck Add-on, you can go back and open it at any time from the same Add-ons menu.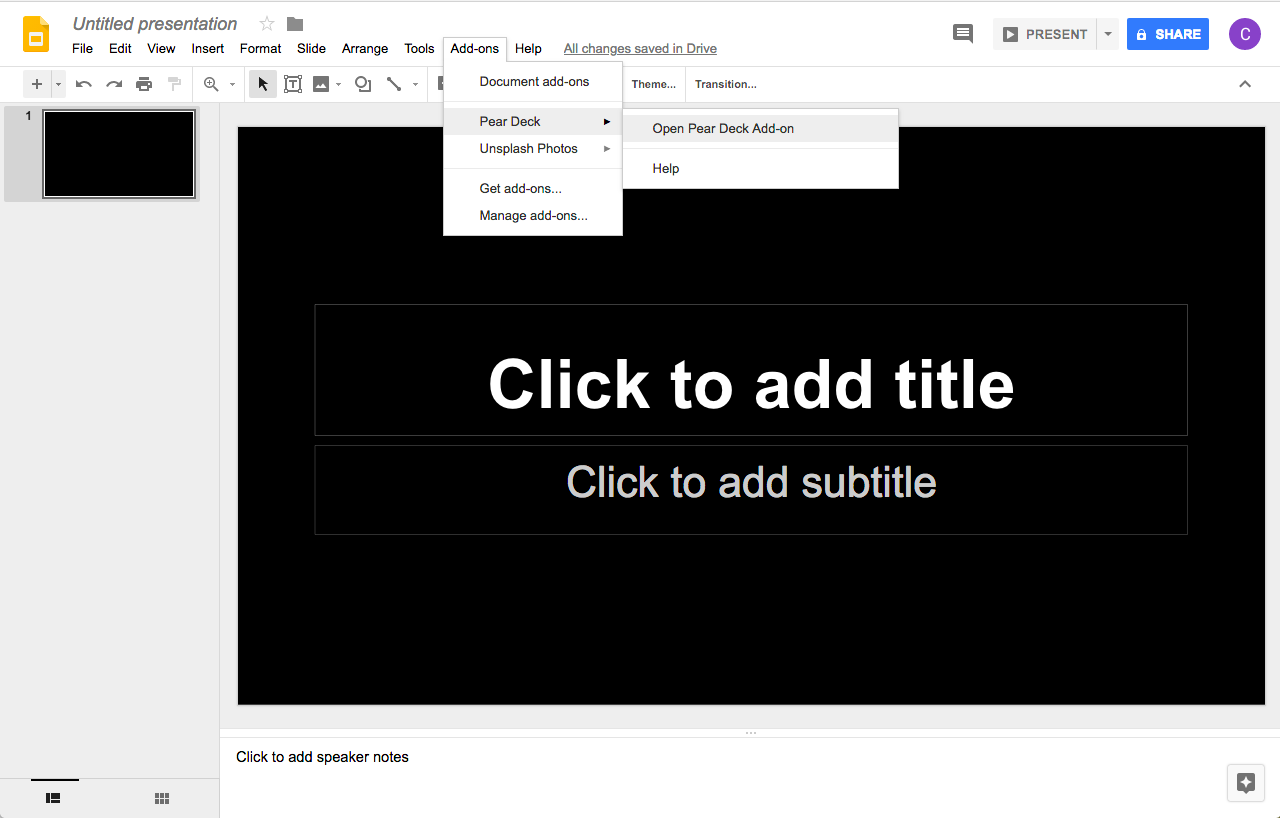 3. Finally, please answer the Pear Deck account setup questions. You'll be prompted to do this when you try to present with Pear Deck.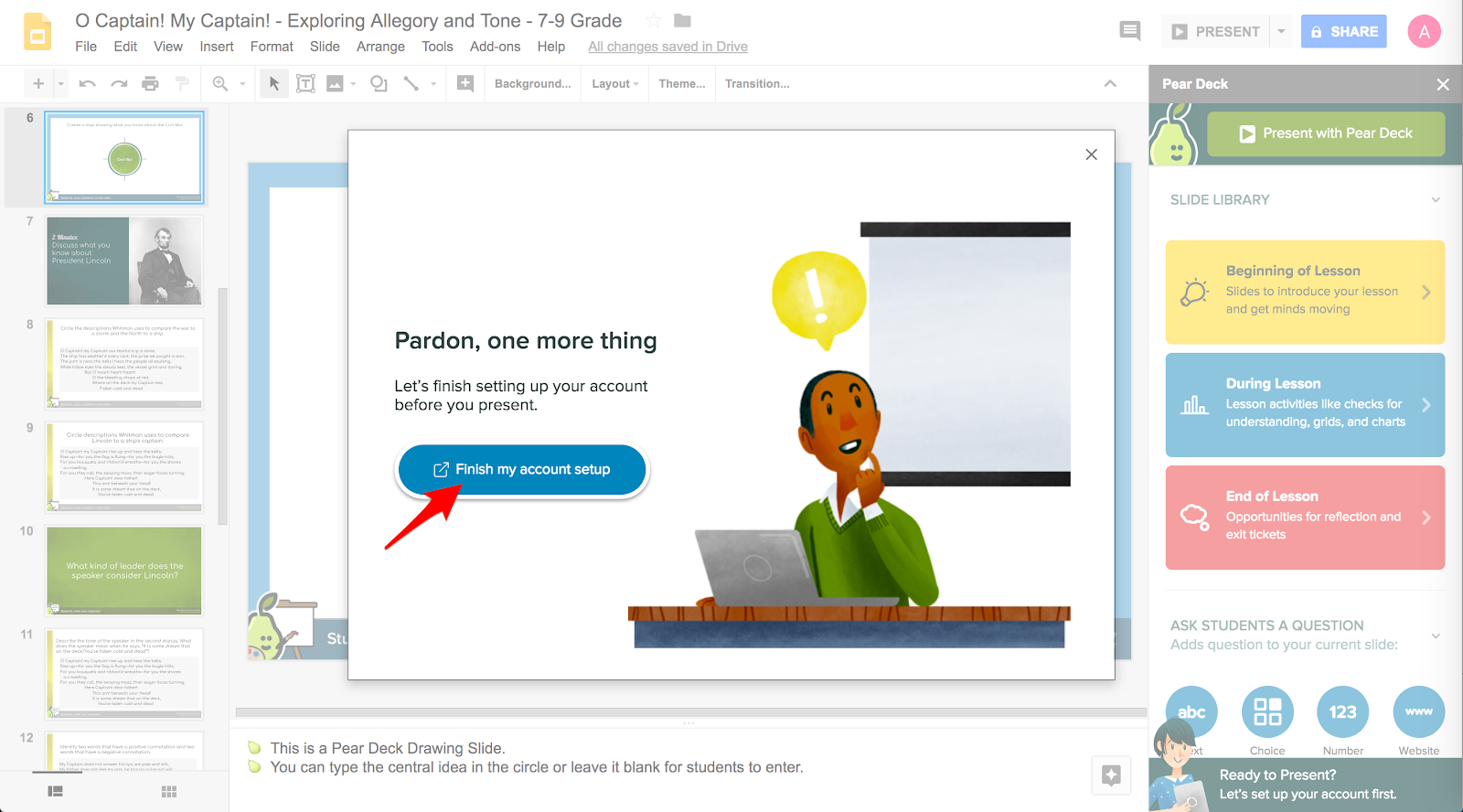 4. Once you finish answering the account setup questions, you can open Pear Deck from the Add-ons menu of any Google Slides presentation and create new interactive lessons.
Start from PowerPoint Online


If you're signing in with Microsoft Office 365, then you can create your Pear Deck account and get the PowerPoint Online Add-in by following these steps:
1. Open any PowerPoint Online presentation.
2. Click Insert > Add-ins. You may need to click on the three-dots or expand your browser window in order to see the Add-ins button.

3. In the pop-up Office Add-ins menu, click on Pear Deck to install it for free from the Add-in store.
4. Go to the Home tab and click on Pear Deck. The Pear Deck Sidebar opens. Click Log In.
5. Fill out your account information and Authorize with Microsoft.
6. Going forward, each time you want to make a Pear Deck lesson, just go back to the Home tab and click on the Pear Deck Add-in to open the Pear Deck Sidebar.

*We do not collect student data. Anyone who chooses the role of Student in the account setup process will either be directed to joinpd.com to join a presentation, or allowed to create their own presentation without answering any further identifying questions.


Questions? Email help@peardeck.com!