Overview
One way to review students' answers after a Pear Deck Session is to export them to a Google Sheet. You automatically export the Text, Multiple Choice, and Number responses that you collect in your Sessions, along with each student's identifying information, so this feature is great for grading answers after any Pear Deck Session! Please note that you must sign into Pear Deck with a Google account in order to export responses at this time.

Want to see students' names in your spreadsheet? Make sure to require email login before you present. It's the only way to see identifying information at any point in Pear Deck!
Export Responses from one of the following places:
Export Responses from the Dashboard or Projector View
Click End This Session. Optional: Name the Session by clicking Unnamed Session. This makes it a little easier to locate later.
Now that the Session status is Closed, open the More Actions menu again and click Export to Spreadsheet.
Your spreadsheet opens in the same tab.
Export Responses from the Sessions menu
Go to Pear Deck Home.
Open your Sessions (OR go to the Present a File section and click on a File Name to open the menu).
Open the More Actions (3-dot) button next to the Session you want to export. If the Session status is Live, click End Session to close it first.
Click Export to Spreadsheet. Your spreadsheet opens in a new tab.
Find your Spreadsheet Later
When you export responses, the Google Sheet is automatically saved in your Google Drive in your Pear Deck > Exports folder. This folder is created for you when you export your first spreadsheet, and all following spreadsheet exports are saved there, too.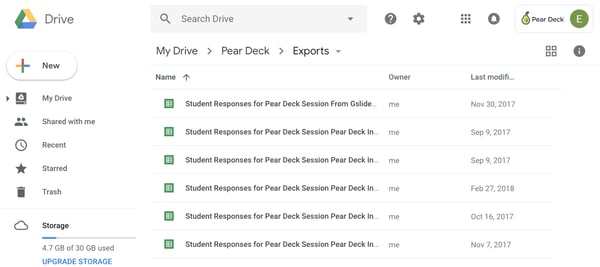 Example
Spreadsheet exports contain Text, Multiple Choice, and Number responses, but not the Draggable or Drawing responses. Draggable answers export as coordinates, and Drawing answers don't appear on spreadsheets (but the spreadsheet indicates if students left a response to these types of questions). In the example below, each Response Type is labeled on the spreadsheet export:

Now you can grade responses with Flubaroo, the Google Sheets Add-on!

With the individualized Takeaways™ (a Premium feature), you can publish the all types of responses (including Drawing and Draggable) and all of the Slides in Google Docs. It's another great tool for publishing students' responses and extending the lesson after class!
If you have questions, please email help@peardeck.com.