Overview
Pear Deck needs to set cookies in your browser in order to work correctly. We expect to set cookies from our website and a couple of third-party sites. Here's the full list of sites:
[*.]peardeck.com
[*.]google.com
[*.]youtube.com
login.microsoftonline.com
Keep reading to learn how to allow cookies in each of the browsers that are compatible with Pear Deck (Firefox, Microsoft Edge 18, Safari and Chrome).
First, a note about re-authorizing login...
You may have landed here because you saw a message like this:
If you're seeing this message, please follow these troubleshooting steps:
Click on the Re-Authorize button. You'll prompted to log in with your account again. You should only have to do this once. However, if the error message pops up again, continue to the next steps.
Make sure to allow third party cookies in your browser. You may follow the instructions for each browser that Pear Deck supports below.
If allowing cookies doesn't stop the re-authorization request, open an incognito browser window. Just opening this window can help Pear Deck reset your login when you're stuck in an authorization loop.
Log out of Pear Deck. Go to your Pear Deck Home and click on your person icon in the top right corner of the screen. Click Sign out. Then sign back in.
If Pear Deck still doesn't work after following these instructions, please contact help@peardeck.com. We'd love to see a screenshot of the error, showing the entire screen all the way up to the URL bar. We'll help you resolve it and get you back to engaging your students!
Firefox
Cookies are enabled by default in Firefox, so you should be ready for Pear Deck. However, if cookies were blocked any point, here's how to enable them again:
In the browser, click the menu (three lines) button.
Select Content Blocking. The Privacy & Security panel of Firefox Preferences will open.
Select Standard to restore the default settings and enable cookies to be set. Learn more about cookies in Firefox.
Microsoft Edge 18
In Microsoft Edge, go to More (...) > Settings.
Select View advanced settings.
Under the Cookies section, click the drop-down menu and select Don't block cookies.
Restart Edge.
Safari
Open the Safari app on your Mac
Click on Safari > Preferences
Select Privacy
Choose Allow from current website only, Allow from websites I visit, or Always allow. Learn more about cookies in Safari.
Chrome
If cookies are blocked, Chrome will show you an icon like this in the URL bar:

To enable cookies, go to chrome://settings/content.
Click on Cookies.
Go to Allow sites to save and read cookie data. Move the slider to make it active (blue). Make sure that Block third-party cookies and site data is inactive (grey). That should take care of it!
However, if you prefer not to allow all third-party cookies, you can enable only the third-party cookies that Pear Deck needs. Just scroll down to Allow and click Add.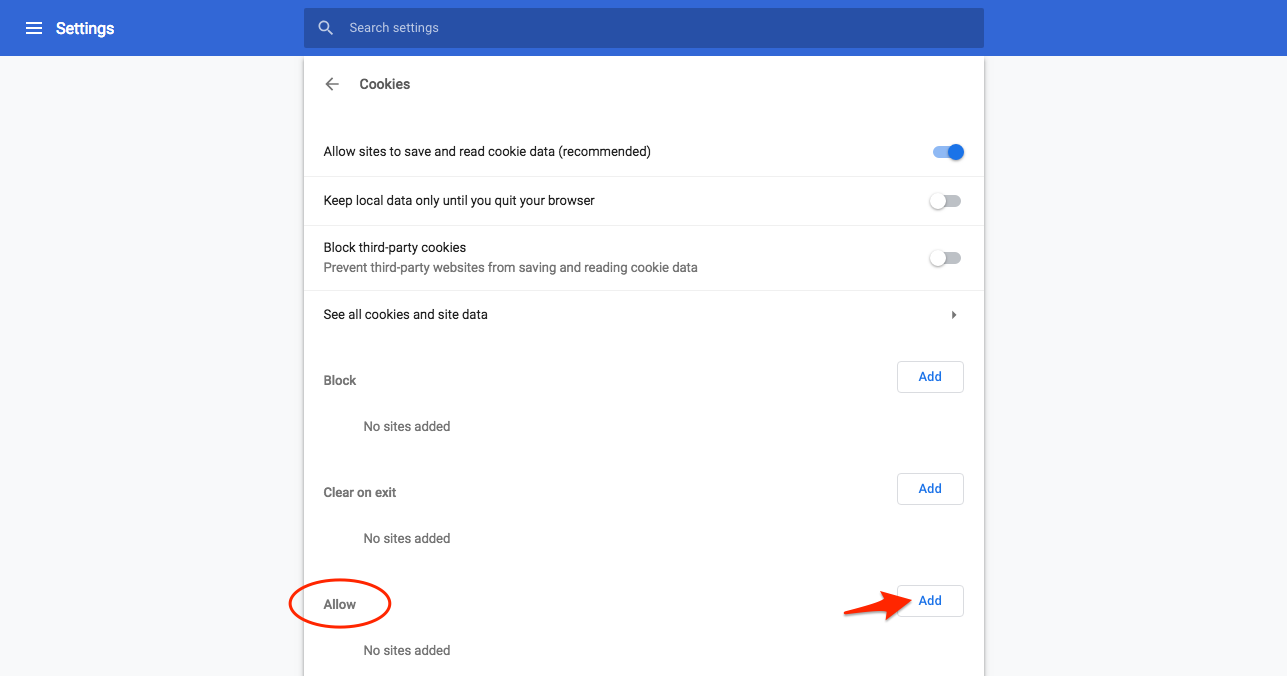 Then add the following sites:
[*.]peardeck.com
[*.]google.com
[*.]youtube.com
login.microsoftonline.com